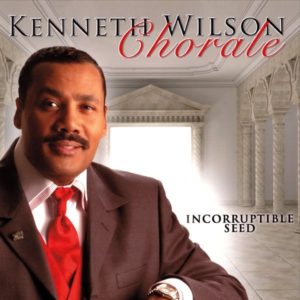 Kenneth Wilson Chorale
Incorruptible Seed
Love Records (release date: January 1, 2017)
http://kennethwilsonchorale.hearnow.com
By Bob Marovich
Drawing from 1 Peter 1:23 for its title, Incorruptible Seed is the latest album from Detroit's Kenneth Wilson Chorale, a group that demonstrates high-level vocal training in its easy, controlled delivery. Wilson's songs—he wrote all the selections—append messages of hope and encouragement to mid-tempo contemporary gospel choir music.
The album's thematic premise of God's constancy for His people is condensed in the opening track, "I've Got Jesus." This rhythmic, mid-tempo cut points to the primacy of Jesus as all anyone needs to weather a storm. The album single, "It's Just Not Over," reinforces this message by suggesting that, in times of doubt, praise the Most High.
"Medley" is actually an extended worship moment but it contains two of the finest songs on the album. The majestic ballads, "It's All in Me, I Am the Lord" and "God Has Already Provided," evoke the 1980s glory days of gospel choir singing. Given that Wilson, as a songwriter, provided the Reverend James Cleveland and the Southern California Community Choir with its 1979 "Prepare to Meet Him," the linkage between the Chorale and that heady era is not arbitrary.
The strongest singing and most dramatic harmonies on the album can be found on "Glory to Our God." It's a song that cries out to have some bars sung a cappella. In fact, I half expected to hear an a cappella moment somewhere in the arrangement.
A radio host, author, entrepreneur and newspaper publisher in addition to his music duties, Dr. Wilson is an alumnus of Detroit's Mumford High School, which has produced a legion of gospel artists, including some Winanses and Clarks as well as Fred Hammond and Deitrick Haddon. He organized the Kenneth Wilson Chorale in 1986.
Recorded live and with an altar call at the end, Incorruptible Seed extends the Kenneth Wilson Chorale's ministry of contemporary gospel music in the classic choral style.
Three of Five Stars
Pick: "Medley"