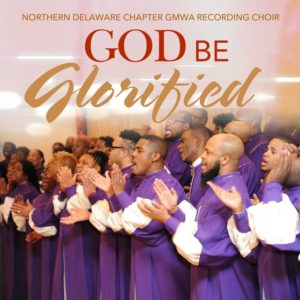 Northern Delaware Chapter GMWA Recording Choir
God Be Glorified
(self-produced; release date: May 14, 2016)
www.ndcgmwa.com
By Bob Marovich
Gospel choirs trained under the Gospel Music Workshop of America (GMWA) umbrella possess a certain style that non-GMWA choirs do not necessarily have. It's spit-polish combined with passion, thunderous voices that can sing at a whisper, lively leads, and contemporary arrangements anchored in tradition.
If GMWA was handing out seals of approval to choirs that met these standards, the Northern Delaware Chapter's Recording Choir would get one.
On the choir's debut effort, God Be Glorified, it demonstrates a consistent command of hymns, gospels, praise songs, anthems, and songs classic and new.  All have that special GMWA gospel choir effervescence at their foundation.
The showy arrangement of the Protestant stalwart, "A Mighty Fortress Is Our God;" the contemporary treatments given old hymns "Beautiful Garden of Prayer" (titled "In the Garden") and "Lord I Want to Be a Christian" (called "In My Heart"); the choir's big, bold sound; touches of blue notes; and prominent organ, piano, and drums, offer the listener the full GWMA performance experience.  Listen for Pyerce Oates' captivating piano riffs in particular.
The album's three showstoppers are the uptempo "Old Time Way," "Burdens" (aurally the crowd pleaser) and the early Ricky Dillard-esque "I'll Never Stop Praising the Lord." The choir rollicks like Chicago's Cosmopolitan Church of Prayer Warriors or the Chicago Mass Choir. Appropriately, "Old Time Way" promises and delivers the "preaching, praying, singing, and swaying" of country church. While the choir is skilled at a variety of styles, traditional handclappers are its sweet spot.
The current single, "We Praise You," is the least affecting of the album's 12 selections, largely because it falls within the current radio-friendly Rhythm & Praise fad, which trades on volume and hyper-repetitive lyrics, when the choir's overall substance could blow most R&P teams off the platform.
The Northern Delaware Chapter GMWA Recording Choir is led by "The Maestro," Minister Wayne E. Carter, Sr., who serves as the album's executive producer.
Recorded in 2015, the excellent gospel music contained on God Be Glorified makes me think that GMWA ought to have its own record company to help more of its affiliates get heard.
Four of Five Stars
Picks: "Old Time Way," "Burdens," "I'll Never Stop Praising the Lord"