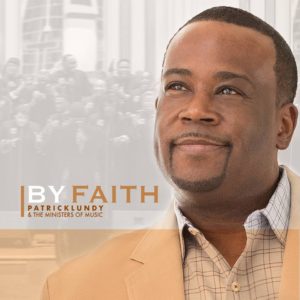 Patrick Lundy & the Ministers of Music
By Faith
New Day Distribution (release date: October 27, 2017)
www.plundymom.com
By Bob Marovich
By Faith, the latest full-length release by Patrick Lundy & the Ministers of Music, contains the group's finest work to date.
The quality of the MOM vocalists, individually and collectively, make By Faith strong, but so does the selection of songs and songwriters. While Lundy contributes original compositions, such as "It's On the Way," a powerfully-rendered ballad of encouragement, other songwriters include top-shelfers V. Michael McKay ("Rest"), Byron Cage ("From the Rising"), and Stephen Manders ("Under His Wings"). The songs dip frequently into the Bible for quotes that celebrate the saving power of Jesus.
"Under His Wings," a symphonic tour de force featuring strings and a harp (!) is Smallwood-esque in composition and delivery. The choir's mastery of vocal dynamics coupled with Janinne Hutson-Black's superb soprano runs make this a keeper. The song transitions seamlessly into McKay's equally substantive "Rest." Powerhouse singer and guest vocalist Kathy Taylor turns up the temperature on the title track and could have gone on even longer without a single objection from listeners.
By Faith also includes some churchy fare, most especially "The Power of the Holy Ghost," the sassy "Lord You Keep Blessing Me" with its combination of soloist and female and male trios, and the Ricky Dillard-inspired pewburner "Enter His Gates." Lundy telegraphs the traditional on "From the Rising," declaring at the outset that this is a "wooden church" song as the choir and live audience launch into a strutting clap-and-stomp rhythm.
Lundy, originally from Georgia, organized the Ministers of Music in 1994 from vocalists living in the Greater Washington, DC, area. The group's debut was in November 1994 at the Ebenezer AME Church in Fort Washington, Maryland. A graduate of Howard University who studied both music management as well as voice, Lundy employs both to great effect on By Faith. A must have for choir directors.
Five of Five Stars
Picks: "It's on the Way," "Under His Wings," "Enter His Gates"