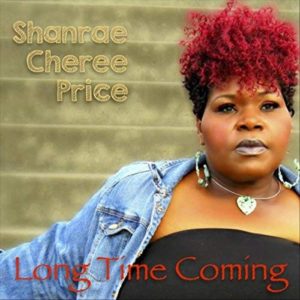 Shanrae Cheree Price
Long Time Coming
DuRee Music Ministries, Inc. (release date: January 18, 2018)
By Bob Marovich
Given that Long Time Coming opens with Shanrae Cheree Price delivering the Reverend Paul Jones' classic "I Won't Complain" to a warbling B3 like a seasoned church singer, it's not surprising that the listener would expect more of the same.
But then the song shifts into a contemporary gear and you realize that Price has old school and new school vocal personalities. Also not surprising: Shanrae's sister is none other than Kelly Price, the Grammy-nominated and Soul Train Award-winning R&B singer whose fourth album was a gospel record, This Is Who I Am (GospoCentric 2006).
Like her more famous sister, Shanrae possesses a big and bold voice. She is at her finest on the album's more conventional gospel tracks like "I Won't Complain," the uptempo "No Boundaries," a call-and-response praise song; and "Spreading the Word," one of those selections you swear you've heard before but is an original (and ideal for praise teams).
Halfway through the album, Price switches to a neo-soul groove to deliver songs with social messages, such as "It Takes 2" (the importance of community), "Hang It Up" (the evils of scandal and gossip in the church), "Just Listen" (the music implicit in nature), and "The Crab Mentality" (the perils of conformity). "Seasons" is a newly-composed Christmas song complete with jangling jingle bells. One exception is the title and concluding track: this testimony features hearty blasts from Price's gospel lungs.
Long Time Coming has a DIY vibe, but Price's voice is bigger than DIY. It's a chrysalis crying out to be a butterfly. She should get the same full-bodied treatment that her sister receives. When that happens, and it shouldn't be a long time coming, her voice may well leap out of the speakers.
Three of Five Stars
Picks: "Spreading the Word," "No Boundaries"