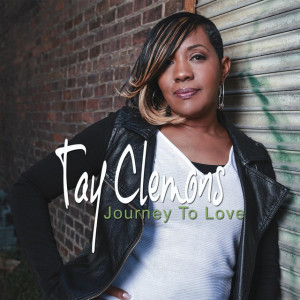 By Bob Marovich
"I like how singing makes people feel. I like the way it makes me feel when I sing. Music is a universal language. It changes everything."
With such a passion for singing burning deep inside her, it is not surprising that Shantavia "Tay" Clemons has gone on to become a solo gospel artist.  She released her debut project, Journey To Love, in December 2014.
The artist spoke with the Journal of Gospel Music about her journey to gospel singing and how music is indeed changing everything in her life.
Clemons, who was raised with her younger brother in a single parent household in Fayetteville, North Carolina, made her first public singing appearance around the age of five.  She performed Atlantic Starr's hit "Always" during the intermission of an adult fashion show, and received a standing ovation.
On Sundays, Clemons accompanied her grandmother to the Church of God of Prophecy on Reilly Road in Fayetteville. "If it wasn't for my grandmother," Clemons admits, "I wouldn't be where I am today."
In high school, Clemons joined a girl group that sang R&B songs in talent shows and at events in Fayetteville.
"I always wanted to sing," she said, "but as far as styles of music, I didn't have a preference at that time.  As time went on, God pulled me in a different direction. I didn't want to sing R&B any more. I caught a little flak from some of the girls in the group because they didn't understand. We were young—seventeen, eighteen, nineteen. They didn't understand why I didn't want to sing R&B anymore."
Following the girl group experience, Clemons took a break from singing.  Her interest in performance was rekindled after she joined the Church of the Apostolic Revival International in Durham, North Carolina, where Apostle John A. Bennett is pastor. She became part of the church's worship team and took over the children's choir.
Her experience at Apostolic Revival International became the training ground for her solo career and inspired her to record her first gospel album, Journey To Love.
"I named the album Journey To Love because life is not an easy walk. It truly is a walk by faith. You hit bumps and turns in the road as you are trying to get to the destination, which is God, which is love. He is love. It's a journey to Him."
Clemons's initial vision for the album was for it to contain mainly Praise & Worship songs. "I love Praise & Worship and ballad songs—songs that usher you into the presence of God, that allow you to connect to Him. But other songs were presented to me. Those songs connected with what I was going through at the time. So we went in a different direction. There were a few songs I'd written for the album, but we took them off and added several new songs."
Still, some of her own song compositions, such as "Take It Away," which she wrote with her husband Nate, did make the final cut. "The songs I wrote are relational. They are a longing for more of God, and thanking Him for what He's done.  For example, 'Take It Away' speaks to our thankfulness for His mercy and grace, and for drawing us closer to Him. Several people have told me that 'Take it Away' literally brought them to tears."
Clemons recognizes that not being a traditional gospel artist can leave one exposed to a certain amount of controversy. "I know there will be a lot of opinions from people who don't necessarily agree with the music I'm doing," she said, "because it's not their cup of tea. But I need to stand behind it because it is something God has given to me. We need to keep the old, but we also need to reach the people who might not even step foot in a church but will connect with my style of music."
Tay and Nate formed We Dream Entertainment Group to promote their music ministry. The company is still in its infancy, so the couple is grateful for the support they have received from industry veterans such as Arvetra Jones Jr. and Barbara Archer. "I'm thankful for them and for everyone who has had an impact on this journey."
Now that the album is out and making the rounds of radio, Clemons is working on the next project. This time, the plan is to focus on the Praise & Worship sound that was the original premise of Journey To Love. "I love all kinds of music," she said. "I love country, I love opera, and so we are going to revisit the things I started writing for Journey To Love. I do believe God will give us some new music, too."
Although she has one album behind her, Clemons knows the road won't be easy. "Sometimes I want to stop, sometimes I want to turn around, sometimes I doubt myself, but then I remember what was spoken over my life and I continue on to that destination."
For more information on Tay Clemons, visit www.tayclemons.com.