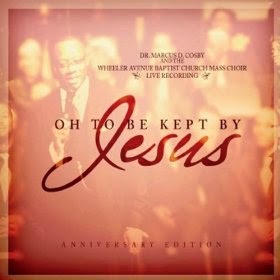 "I Believe"
Dr. Marcus Cosby & the Wheeler Avenue Baptist Church Mass Choir
From the 2012 CD Oh to Be Kept By Jesus (Anniversary Edition)
"I Believe" is a robust, stadium-sized praise anthem and assertion of personal belief from the Wheeler Avenue Baptist Church Mass Choir of Houston, Texas. The orchestral flourishes come courtesy of the Nashville String Machine.
The passionate song turns out to be the final recorded solo for the church's music minister, the late Henry "Hanq" Neal. A Fort Wayne, Indiana, native and former member of the Pentecostal Ambassadors and Donald Vails Choraleers, Neal died in February of this year. According to the church, he suffered a massive heart attack less than 30 minutes after singing "I Believe," fell into a coma, and passed from labor to reward on February 27 at the age of 57
.
The song, written by Leon C. Lewis, most certainly comforted Wheeler Avenue members upon Neal's passing. They could imagine him singing the song just as zestfully at the golden gate of Heaven as he did on this project.