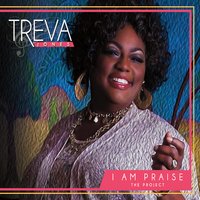 Treva Jones
I Am Praise – The Project
Chezmusique (2017)
www.trevajones.com
By Bob Marovich
Treva Jones wasn't taking any chances when she assembled I Am Praise – The Project.
The Houston, Texas, resident packed her latest release with some of gospel music's finest singers, songwriters, and producers. She also took her time to put it together—three years to be exact—with the 2014 release of the I Am Praise EP but a preview of things to come.
With songs written by V. Michael McKay, Margaret Douroux, and the late O'Landa Draper; with San Franklin Jackson and Mark Kibble (Take 6) as background vocalists; and Sanchez Harley and Jacqui Whittmon as producers, how can you go wrong?
And Treva Jones doesn't. She wraps her alto, resonant with wisdom and church-honed pacing, around a selection of ten classic gospels and new compositions.
Her sweet spot is the church ballad. "He's Still Working on Me" is an example, as is "God Has It All in Control," co-written by Draper, on which the BGVs attack the lyrics with the precision and barely-contained fervor of the late choir director's own Associates.  Jones also covers Douroux's "Give Me a Clean Heart," popularized by the Southern California Community Choir. She turns the gospel hymn "Since Jesus Came Into My Heart" into a handclapper. "There's a Blessing" also has a traditional punch to it.
Throughout the album, Jones presents classic themes of faith, hope, and encouragement, and that nothing on earth can gain victory over your life as long as God is on your side. The overall sound is brassy and smooth jazzy when it is not rooted in traditional gospel.
Ironically, the album's least compelling selection is the single, "Praise His Name." It's a simple praise song with an island beat, the kind especially popular among gospel singers in the UK, and somewhat popular on US gospel radio. What was once a clever and catchy novelty has become too commonplace. Nevertheless, there's so much more of interest on the album that it's a minor point.
See our review of Treva Jones's I Am Praise EP here.
Four of Five Stars
Picks: "God Has It All in Control," "Since Jesus Came Into My Heart"