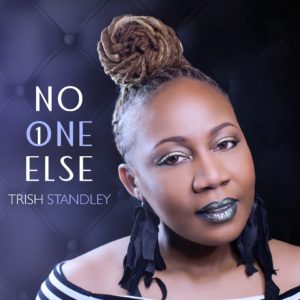 Trish Standley
No One Else
Jan's Joy Ministries (2016)
www.trishstandley.com
By Bob Marovich
The starting salvo of gospel singer and fashionista Trish Standley's new album, No One Else, is refreshing in its simplicity.
There are no anthemic trumpeting synths, no declarative shouts of "C'mon and put your hands together," both of which introduce too many gospel albums these days.
Instead, Standley's opener, "Again I Worship," is a peaceful piano-dominated praiser that gives her room to exercise her girlish soprano. Reprising the airy introduction is the title track, written by Tiffanie Barnes, with its sweetly sung melody and humble plaudits to God for caring all the time, but especially when it is most needed.
Thematically interesting is "Nobody But Me," a song sung from God's point of view. A veritable mini-workshop on God's many accomplishments during the Bible days, the song concludes with the rejoinder that "if I did it then, I can do it again."
The most delightful piece on the album is Standley's 2015 single, "I'll Make It All Right," a cover of Chicago's Beautiful Zion Missionary Baptist Church Choir's 1973 hit.  Standley and her BGVs endow their version with the same joyful, handclapping exuberance of the original.
The arrangement of the other songs, most written by Standley or with her longtime producer Carlton "C-Dub" Whitfield (who offers a rap interlude on a couple of selections), varies from track to track. A hair rock-fueled guitar solo by Mark Lettieri can be heard on "Why," and a slightly lilting island beat underpins "My God."
Standley's sweet spot, at least for this album, seems to be smooth R&B-infused gospel, as heard on "Hang On." Her jazzier moments from the 2011 album, Redemption, are not present, though overall, the music is far more consistent in its presentation here than on her previous album.
Three of Five Stars
Picks: "No One Else," "I'll Make It All Right"