UNIVERSAL CITY, CA – Dec. 2014 – NBC has announced the two final groups, TRACES and TIMOTHY'S GIFT, competing for a first-place prize of $50,000 on the two-hour special airing Wednesday, Dec. 17 (8 p.m. ET/PT) of the popular musical competition series "The Sing-Off."
Returning judges Jewel and Shawn Stockman will be joined by Fall Out Boy frontman Patrick Stump while Nick Lachey is once again set as host.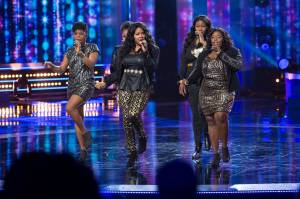 From New York, Traces (left) are five spirit-filled divas who give gospel a modern twist with voices as big as their personalities. With their roots firmly entrenched in church, these women find time away from work to perform afternoon shows in front of appreciative and awe-filled audiences.
From Nashville, Timothy's Gift (below) is comprised of six women who met at church and often sing at maximum security prisons around the country to inspire inmates to have hope.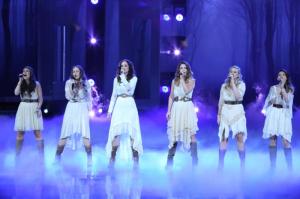 Also performing on the special will be season four "Sing-Off" champions Home Free, who will sing with Lachey and all three judges, as well as season three winner and hugely popular group Pentatonix.
Home Free saw their debut album release "Crazy Life" climb to #1 on the country iTunes chart and #4 on the overall iTunes chart before dropping at #40 on the Billboard 200. After headlining the 32-city, 36-show "Sing-Off Live!" tour in this past spring, they embarked on their own headlining tour that included high-profile appearances at CMA Music Fest in June, the MLB All-Star Game in July, and a 34-show tour in support of "Crazy Life" through the fall. Their holiday release, "Full of Cheer," released on Oct. 27, debuted at #65 on the Billboard 200. The band has a 10-city tour in support of the record slated for this month (December 2014).
As another sign of the influence of "The Sing-Off," Pentatonix have become a musical force since winning in 2011. The quintet has released four EP's and their first full-length CD, selling more than 800,000 copies combined with three of the releases debuting in the Top 10 on Billboard's Top 200 chart. Having recently eclipsed 6.7 million subscribers and over 670 million cumulative views, the Pentatonix official YouTube page is currently the 13th most subscribed-to music channel, having surpassed the subscriber totals of both Avicii and Beyoncé.