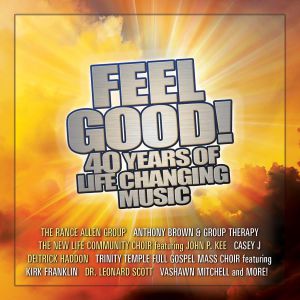 Various Artists
Feel Good! 40 Years of Life Changing Music
Tyscot Records (2016)
www.tyscot.com
By Bob Marovich
What started out as a hobby for an Indianapolis, Indiana, dentist and his nephew is now the oldest existing African-American gospel music label in the country.
Tyscot Records is celebrating its fortieth anniversary in the music business with a retrospective CD: Feel Good! 40 Years of Life Changing Music. The title comes from the name of the label's first offering, a full-length album by the Radio Choir of Christ Church Apostolic, where founders Dr. Leonard Scott and L. Craig Tyson were members. The project salutes that inauspicious intro by opening with a newly recorded version of "Feel Good," led by Dr. Scott.
From there, we hear the Pentecostal Ambassadors and a selection from Deliverance that features one of the first published songs by another Indy native and soon-to-be superstar, Kenneth "Babyface" Edmonds. "It's Only a Test" by Chicago's Bishop Larry Trotter and Sweet Holy Spirit is a full-on church-wrecker; and the PAW Mass Choir interpolates Handel's "Hallelujah Chorus" into "How Majestic," complete with those characteristically dense gospel choir harmonies. "Jesus Is Real" by John P. Kee & the New Life Community Choir reminds the listener that Tyscot launched the national career of the now venerable choir director.
Other Tyscot signings, such as the Rance Allen Group, VaShawn Mitchell, Deitrick Haddon, and Darwin Hobbs, are also featured, though surprisingly not the late Robert Turner & the Silver Hearts, an Indy gospel staple and early Tyscot signee.
The album concludes with selections from Tyscot's current hitmakers—the award-winning Anthony Brown & group therAPy and Casey J—suggesting that the label is in the same rarefied position today as it was when it first introduced John P. Kee.
While the musical selections make for a thoroughly enjoyable and seamless trip down memory lane, the brief album notes represent a missed opportunity. For posterity's sake, it would have been a blessing to include with each selection the year it was released, the name of the album the song came from, the main soloists, and one or two sentences about each artist. A short history of the company would also have been beneficial.
Nevertheless, the sound quality is balanced, the song lyrics have substance, and the choices give everyone from the gospel music novice to the veteran enthusiast a survey of Tyscot Records' impact on gospel music—one that, 40 years in, is still growing in strength and significance.
Four of Five Stars
Picks: "It's Only a Test," "Do It Again."
NOTE: Watch JGM for a forthcoming interview with Dr. Leonard Scott of Tyscot Records.