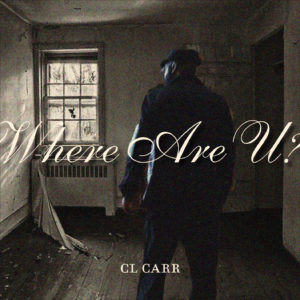 "Where Are U?"
CL Carr
C eL Entertainment (2017)
Available from iTunes
By Bob Marovich
One evening in late October 2000, I was visiting my 40-year-old wife in the hospital. She had been diagnosed with cancer in 1992. The cancer had spread and by this point she didn't have long to live. We knew it because she had lost significant weight to the disease.
I was as physically, mentally, emotionally, and spiritually exhausted as a heart-sick husband could be.
As I drove home from the hospital that night, pulling on whatever reserve energy was left in my body, all I could see were people on the streets, dressed in Halloween costumes and laughing, dancing, eating, and drinking with friends. I seethed with bitterness. Their world was one of celebration. My world was filled with death, devastation, and depression.
It felt so unfair. What did we do to deserve this? My wife was a teacher so beloved by her students she was nominated for the prestigious Golden Apple Award.
I couldn't help but ask at that moment, "God, where are you?"
I could have used CL Carr's new single, "Where Are U?" that evening. The Newark-raised Carr's passionately-sung ballad is the same cri de coeur from the wilderness, seeking God's comforting embrace in the midst of an "empty space." We humans are not privy to God's plan, no matter how hard we try to figure it out. And when we don't understand, we question God, even though we need his love to carry us through. Without getting an answer to his question by the end of the song, Carr simply articulates the lonely feeling of standing in the need of prayer.
My wife died less than two months after that incident. I myself was hospitalized five months after her passing in what can best be described as exhaustion coming to full fruition. Eventually the grieving grew less, I changed my eating and exercise habits, met someone new, and remarried.
I was able to look upon Halloween revelers with cheeriness, not bitterness. I'm here to tell CL Carr that there's a brighter day ahead, though I suspect he already knows.