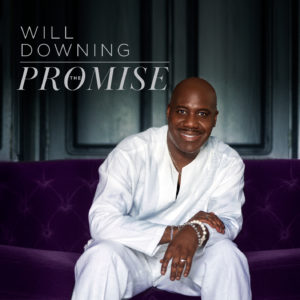 Will Downing
The Promise
Shanachie Entertainment (release date: November 30, 2018)
www.shanachie.com
By Bob Marovich
Listening to R&B crooner Will Downing's first gospel album, The Promise, is like hearing Peabo Bryson, George Benson, or Al Jarreau making a sacred album.
It's not surprising. Called "The Prince of Sophisticated Soul," Downing has been melting hearts with interpretations of top-selling R&B songs since his debut self-titled album in 1988.
For a long time, Downing's mother had wanted him to make a gospel album, but when the singer was diagnosed with an illness called Polymyositis that almost took his life, he made the request an outright promise to God—hence the album title.
Naturally, the album is chock-a-block with religious and inspirational ballads that feature silky arrangements to match Downing's tender baritone. He pours the same sensuousness into the album's ten tracks of hope, encouragement, praise, worship, and inspiration that he used on hit R&B songs like "I Go Crazy" or "Wishing on a Star."
But there are mid- and up-tempo tracks on The Promise, as this is a gospel album, after all. The rhythmically compelling "Take it to the Cross" is the ideal album opener, taking the listener to church with its background singers (Downing's family), organ, and hand clapping.
"He Will Be There," a declaration of God's constancy and expediency in all crises, evokes Commissioned and Men of Standard in its use of urban adult contemporary harmonies. "God Will Show You the Way" offers the same encouraging message to a steady, vibrant R&B rhythm.
Downing co-wrote most of the songs with Randy Bowland, who also contributes his multi-instrumental prowess throughout the album. Downing's wife Audrey, former member of the R&B group Unlimited Touch, helped pen the beautiful worship ballad "God is so Amazing."
R&B songstress Regina Belle (who cut two gospel albums for Pendulum Records a few years ago) joins Downing on "Changed," a ballad about the glories of life after accepting Christ. It is just as good as you would expect from a Downing-Belle duet.
The Promise is an easygoing, lovely album. If it is not the kind of gospel you will hear from the church choir on Sunday morning, it is the kind of gospel music you'll enjoy in the car en route to church and back home afterward.
Four of Five Stars
Picks: "Take it to the Cross," "Changed."