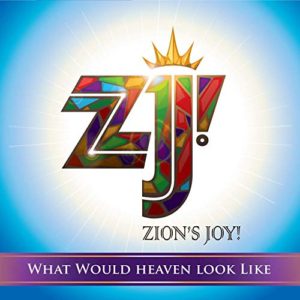 Zion's Joy!
What Would Heaven Look Like
Habakkuk Music (release date: March 8, 2019)
www.zionsjoy.com
By Bob Marovich
Hailing from Indianapolis, Indiana, the multicultural small choir called Zion's Joy! made national news in mid-2018 when the video for their single, "What Would Heaven Look Like," was erroneously blocked by Facebook.
From the "no good deed goes unpunished" department: it was only after the group paid to boost their Facebook post of the video that it was flagged by the social media giant as "political content" and subsequently blocked. The company ultimately apologized and restored the video on its platform, noting that "the post. . . does not violate our Community Standards and [we] have apologized to Zion's Joy."
Another irony of the situation is that, as demonstrated on their full-length album named for the song that became a cause celebre, this group cannot come off more fresh-faced and friendly than they do. Their harmonies are smiley and spit-polished, honed no doubt over more than a decade of singing together. They combine the gentle melodiousness of CCM with the hard-hitting emotional grit of gospel, though the arc of their sound bends  toward the relaxed, comfortable vibe of CCM.
In addition to the title track, which calls for peace, unity, and brotherhood in the midst of racial and political tension, the ten-track album contains tender worship ballads such as "Jesus, Jesus, Jesus," as well as high energy praise workouts such as "Celebrate" and "Continuous Praise (Over and Over)."
Songs of hope and encouragement include the soulfully-sung "Tell Me (What's On Your Mind)." Sticking with the brain for a moment, another cut, "Brand New Piece of Mind," is as musically engaging as its message about adopting a fresh look at the world. On "Great Day," the group politely and pleasantly reminds listeners, especially the impatient ones, to prepare for the Rapture. "Time for us to stop playing games / before it's too late," they admonish.
Founded in 2008 as Zion's Voice by Robert W. Stevenson, the group supported Richard O. Jackson on "Praise Him in the Dance," from Jackson's 2008 debut release on Damascus Road Recordings, He Who's Invisible. Today, renamed Zion's Joy! the eight-member ensemble offer up cheerful, contented fare on What Would Heaven Look Like.
Check out the "What Would Heaven Look Like" video below:
Four of Five Stars
Picks: "What Would Heaven Look Like," "Tell Me (What's On Your Mind)"