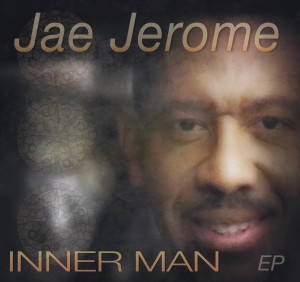 Jae Jerome
Inner Man EP (release date: November 2015)
SouthBreeze Music
www.jaejerome.com
By Bob Marovich
Inner Man, Jae Jerome's self-described "gospel fusion" EP, embraces messages of inspiration and love lyrics—for God? for a person? Sometimes it's ambiguous but it's always positive —with the quiet storm sounds of Maxwell, Brian McKnight, and other R&B male crooners.
Born Jerome Stovell, Jae Jerome is an artist from Bermuda whose style evokes the smooth soul, jazz, pop, reggae, and R&B music he soaked up as a teenager, despite his church's strict warnings about listening to "worldly" music. Jerome worked with a number of contemporary gospel groups over the years, but has also been a solo singer. The six-track Inner Man marks his return as a solo artist.
The opener, "Give It All," has a melodic R&B flow that finds Jerome offering his entire self to the Lord until there is nothing left. On "Will You Take Me," Jerome offers himself to God again, but this time, he presents a body "broken, bruised, and scarred," and asks the rhetorical question of the title.
With its churchy lyrics—"river of life, reviving my soul again," for example—"He Lives in Me" more directly addresses God's presence in Jerome's life than the earlier songs. "If You Hold My Hand," about giving one's burdens over to the Lord, has the hippest melody of all the tracks, save "Give It All."
"Won't Give This Fight Away" will satisfy prayer warriors who like dramatic, battle-like songs about Christian warriors fighting the devil.
Inner Man demonstrates that Jae Jerome is a promising indie artist in voice and style.
Three of Five Stars
Pick: "Give It All"