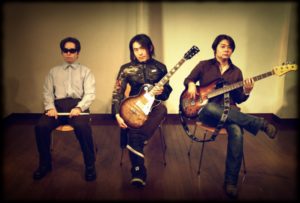 "Steel Wheels"
Imari Tones
From the album Revive the World
www.imaritones.net
Some stomp on the devil's head. The Imari Tones crush bad under their steel wheels.
Which is an appropriate metaphor from a Christian heavy metal band.
Hailing from Japan, where only five percent of the population is Christian, the Imari Tones are indeed an anomaly. They started out as a straight-up heavy metal band, naming themselves after the founding member's girlfriend (now wife). But Imari is also used to describe a style of Japanese painted pottery. So when the trio became the country's first band to blend heavy metal with Christian lyrics, it didn't need to change its name—more than ever, the Imari Tones are "jars of clay."
The musicians' deep growl and rumble, the gothic chord changes, and brief guitar solos are reminiscent of '80s hair band metal. The message amidst the fuzz is about focusing on one's own soul salvation by keeping evil (problems, fear) at bay…under steel wheels.