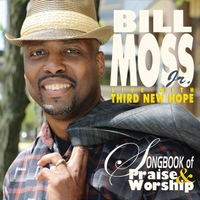 Bill Moss Jr. Live with Third New Hope
Songbook of Praise & Worship
Salathiel Records
www.billmossmusic.com
By Bob Marovich
Motor City singer-songwriter Bill Moss Jr.'s newest release, Songbook of Praise & Worship, is exactly what it is advertised to be.
It's a collection of ready-to-learn P&W songs rendered by Moss and a small but melodious choir from Detroit's Third New Hope Baptist Church, where the album was recorded live on December 20, 2015.
Besides offering a collection of P&W songs, each distinct from one another and all suitable for devotionals, the album contains a thematic undercurrent: the restorative property of salvation. That is, listened to in its entirety, Songbook of Praise & Worship isn't just an exclamation of vertical praise but a declamation of thanksgiving to God by Moss for saving him from the temptations and falsifications of the world and for a more fulfilling life. These lyric strains can be heard most distinctly on "I'm Changed," "Change My Heart," and "You're the Only One."
The album's highlight, "Your Will," is a collaboration between Bill and brother James (aka J. Moss of the famous production team PAJAM), a reunion of the Moss Brothers, if you will. The small jazz combo feel is accentuated by unexpected but pleasing shifts in texture and mood. J. Moss has the most penetrating voice of the two brothers and he demonstrates it by exploding into high tessitura at one point.
Other noteworthy moments include music director James Shelton's churchy B3 organ solo on "Change My Heart," and deft piano and bass solos, respectively, by Demetrius Nabors and Mike Harrington on "Your Will." I was surprised that Moss's cousin Kierra Sheard didn't make an appearance on the album, as she has shifted more toward P&W as a go-to musical style.  So it goes.  Maybe next time.
Probably the most praise team-ready selections on the album are "Lord Have Mercy" (a crowd pleaser, to hear the live audience's response), "Love Lifted Me" (featuring a cameo by Third New Hope Senior Pastor E. L. Branch), and "Great I Am."
Songbook of Praise & Worship is Bill Moss Jr. basking in the glory of being saved.
Four of Five Stars
Picks: "You're the Only One," "Your Will."