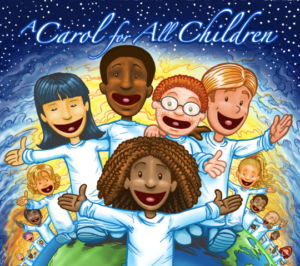 "A Carol for All Children"
His Love Singers
Opus One Studios (2018)
www.opusonestudios.com
By Bob Marovich
Alan Salisbury and Whitney Parnell's "A Carol for All Children" celebrates the religious differences that too often threaten to divide countries.  We are all God's children, the song reminds, regardless of race or creed.
Though the lyrics reference how cultures celebrate holidays differently, this simple, charming carol is not just for the holidays. 
The four-track EP includes a gospel and choral version, directed and arranged by Charles Brown and rendered by the full-throated His Love Singers, an austere reading by the Harmony Interfaith Choir recorded live; and a countrified solo by Parnell with Emily Law on acoustic guitar.
Nevertheless, a hand-clapping mid-tempo beat, thundering interjections, a muscular vamp, and robust male baritone lead singer make the gospel version by far the liveliest of the bunch.
All profits from the single will be contributed to the Homeless Children's Playtime Project in Washington, DC.