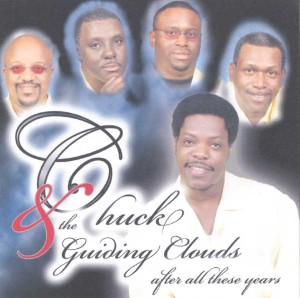 Chuck & the Guiding Clouds
After All These Years
Quartet Boyz Records 2008
www.myspace.com/chuckandtheguidingclouds
Ever wonder where the sweet soul sound of the seventies went? It's being preserved by some gospel quartets.
Proof positive: Chuck and the Guiding Clouds' release After All These Years offers up hearty helpings of quartet spirit wrapped in the bright, easy-going groove of three decades past.
The Huntsville, Texas-based quartet harmonizes high and tightly, reminiscent of their label mates the Violinaires. Thematically, the songs on After All These Years focus on Jesus as friend and fixer during troubled times, which always resonates well with gospel music enthusiasts but is especially relevant today.
Dwight Gordon multi-tasks on a variety of instruments, as the group bounces out song after song. Floyd Bryant, the quartet's songwriter, persuades his brother James Bryant Jr., lead of the Wonderful Harmonizers (World Wide Gospel Records), to be second lead on the driving "Help Me 2 Be Strong." Speaking of relations, on the superb ballad "All In Your Hands," Chuck starts to preaching and in doing so, lists members of his family who have gone to the other side.
"I Love You Lord" is another ballad on After All These Years, a doo-woppy performance reminiscent of seventies iterations of the Chi-Lites and Dells, but enhanced with an intriguing echo effect. The opening track, "In Control," is a funky riff on Ecclesiastes.
As with other Quartet Boyz recordings, the production quality on After All These Years is rich and robust. The vocals and instruments are well balanced so the lyrics don't get buried behind bass and drums. The album is a fine representation of a quartet that, according to its MySpace page, has a fairly packed schedule of appearances this winter.
Three of Four Stars