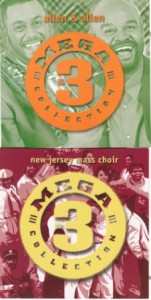 CD Review:
Mega 3 Collections
Light Records
www.lightrecords.com
Box sets have been a music industry staple for some time now. Not to be left out, Light Records added their own variation on the multi-disc set to the mix a few years ago by launching a series called the Mega 3 Collection. The 3-CD packs are reissues of three gospel or Christian rock albums from a Light Records artist's back catalog. It's an economical way to update your CD collection with items that may have eluded you. The liner notes are all but nonexistent, basically a track list with photos of the CDs reissued, but hey, you're buying it for the music, right?
One Mega 3 Collection packages previously released material from the '90s by Bruce Allen and Allen T.D. Wiggins – better known as Allen & Allen. Allen & Allen play pleasant, inspirational smooth jazz, with an occasional gospel vocal (such as by the Christianaires' Paul Porter) thrown in for good measure. Their 1996 Come Sunday CD added a layer of toughness to their otherwise mellow sound. Shades of hip-hop and classic jazz make this the finest of the three disks in the reissue package.
Mega 3 Collections are also available for vintage artists such as Andrae Crouch, Commissioned, and the acclaimed New Jersey Mass Choir with Donnie Harper. The New Jersey Mass Choir set includes their 1986 Look Up and Live, a title that turned prophetic fifteen years later, as the CD sports a photo of the choir with NYC's World Trade Center in the background. The Walter Hawkins Mega 3 Collection includes three volumes of the popular Love Alive series. It's what you need to get your regular Tramaine fix (though there is even a Mega 3 Collection dedicated to Tramaine's solo work).
All in all, you can't go wrong with these economical sets of Light fare in a genre of music for which box sets are still relatively rare.