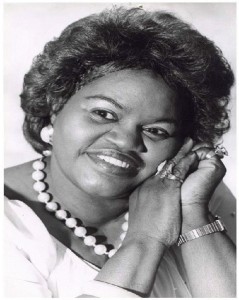 From Dennis Cole, President of the Chicago Area Gospel Announcers Guild:
Our office was informed today of the homegoing of gospel great Ethel Holloway. She passed at the Alden Manner Nursing Home on Austin, in Chicago.
Ethel is known/loved all over the world through her travels with the Jessy Dixon Singers, the Thompson Community Singers, the Ethel Holloway Singers, and foremost by representing herself as a phenomenal solo artist.
She was a proud member of the Evangel World Outreach Center, pastored by Dr. Ray Allen Berryhill.
We extend our heartfelt love and prayers to Ethel's five children, grandchildren and a world of gospel music fans.
The wake and funeral services are as follows:
The body will lie in state on Friday, January 30, 2009 from 2 – 8 p.m. at
New Home M. B. Church
4804 W. Polk, Chicago, IL
Rev. Mack McCullogh, Pastor
The City Wide Musical Tribute will take place on Saturday, January 31, 2009 from 9 -11 a.m. and the Homegoing Celebration will began at 11:00 a.m.
Mount Carmel Holiness Church
4800 W. Washington Blvd, Chicago
Rev. Donald Coleman, Host Pastor
Ethel's Pastor, Dr. Ray Allen Berryhill, Senior Pastor of Evangel World Outreach Center, will officiate.