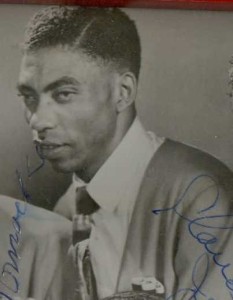 Anthony Heilbut (The Gospel Sound: Good News and Bad Times) informed TBGB today that Rev. Claude Jeter, the amazing high tenor lead singer and original member of the famed Swan Silvertones, went home to glory yesterday, January 6, 2009.
Jeter was 94 years old and living in New York City at the time of his death.
The Swans were among the Golden Era's most beloved and revered gospel quartets. They drew huge crowds for their programs and recorded for top labels such as King, Specialty, Vee Jay, HOB, and Savoy.
A line from the Swan Silvertones' classic recording "Oh Mary Don't You Weep," as led by Jeter, inspired Paul Simon to compose another classic, "Bridge Over Troubled Water."
The location of the NEW YORK CITY Homegoing Service for Rev. Claude Jeter has been changed. The service will now take place Friday January 16, 2009 at:
LaGree Baptist Church
362 West 125th Street (St. Nick & Morningside Aves.)
New York City, NY
Viewing will start at 4:00 p.m. & the service will start at 7:00 p.m.
Cards & condolences in New York can be sent in care of:
Virginia Cotton
P.O.Box 514
New York City, NY 10029
212-427-5058
In lieu of flowers in New York City area, donations will be accepted in care of Virginia Cotton, who is taking care of the church arrangements in NYC.
The final service will be in Detroit, MI on Wednesday, January 21, 2009: wake 12-8 p.m. Thurs, January 22, 2009: 10:30 a.m. service at The Jeter Memorial Chapel; 8436 West Chicago, Detroit. Tele.: 313-834-6100 & fax: 313-834-6191.
Cards To
Ms. Gwen Davis
p.o.box 114
Lillie, LA 71256
Condolences can be faxed to the Jeter Memorial Chapel, Detroit: 313-834-6191.
Read an article on Rev. Jeter that was written by David Hinckley and posted today in the New York Daily News. Anthony Heilbut contributes to the story.