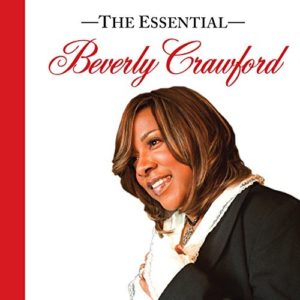 Beverly Crawford
The Essential Beverly Crawford
JDI Records (release date: October 23, 2015)
Available at Amazon.com
By Bob Marovich
The Essential Beverly Crawford is a best-of pulled from her two volume Live from Los Angeles series, released in 2008 and 2010, respectively, with a new song, "Deliverance," tacked on top.
Like Pastor Shirley Caesar, Crawford knows how to work a congregation, interspersing conversational spoken word in the midst of songs or evangelizing before and during her performances.
You hear the singer swoop, squall, whoop, scream, and shout with preacher's breath. She preaches and teaches. She does the holy dance. But she also offers lovely praise ballads that segue from simmer to sizzling.
As expected, the strongest tracks are her shouters, such as the handclapping "Born Again," "Victory Comes," "I Know Too Much," and "Deliverance." All follow the traditional gospel canon with high-energy helpings of hope and encouragement. Her praise ballad side shows on the lovely and majestic "Praise Jehovah" and "For Who You Are."
Interestingly, the prayerful "Serve You Well" starts out like a jazz piece driven by a small combo but transitions into a gospel song such that by the end, Crawford is once again in full squall.
I was surprised that "It's About Time for a Miracle" was not on the set, given the focus on the Los Angeles projects, or that her 2014 Thank You for All You've Done was ignored completely ("Sweeping Through the City" and "Jesus, Precious King" would have fit well here).
Nonetheless, for those unfamiliar with the Live from Los Angeles CDs and DVDs, The Essential Beverly Crawford demonstrates how the right songs, the right arrangements, and the right singer can offer effective praise and worship without the need to dilute it.
Four of Five Stars
Picks: "Born Again," "Victory Comes," "I Know Too Much."