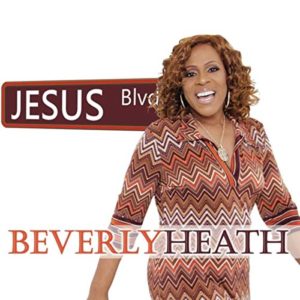 Beverly Heath
Jesus Boulevard
BaCE Music (release date: July 8, 2018)
www.beverlyheath.com
By Bob Marovich
The title track of singer-songwriter Beverly Heath's CD, Jesus Boulevard, sounds like a road the Dixie Hummingbirds could take their "Christian's Automobile" for a spin.
There are blessings awaiting the believer on "Jesus Boulevard," the Atlanta-based Heath sings. And along the way, one can make passage on "Righteous Way" and "Miracle Road." All these roads lead to peace of mind.
No pun intended, but Heath's style is what you could call middle-of-the-road (MOR) gospel. It is neither sanctified nor atmospheric. MOR is, in fact, where many indie gospel artists fall—a space where sacred songs typically contain elements of jazz, pop, soul, and R&B. This is not surprising when you consider that current gospel artists are more likely to cite soul artists like Stevie Wonder and Gladys Knight as chief vocal influences than the gospel giants.
I'm not sure who Heath's influences are, but her voice evokes Knight's smoky, ashen alto. She lofts some impressive high notes on the brief but lovely "Proclamation," which leads into the mid-tempo devotional, "Praise the King of Kings."
The two songs that stand out most on Jesus Boulevard are "Covered" and "Middle of the Night" because they are lyrical and complex where many of the album's other songs are conventional. "Covered" is a reminder of the saving grace made possible by Jesus's crucifixion and resurrection. "Middle of the Night," which features Heath musing on how the darkness amplifies anxieties, has a theatricality as well as a bright message to share.
Heath wrote most of the album's selections. One exception is Fanny Crosby's "Pass Me Not," which is straightforward when it could have used the same nuance Heath employed on "Middle of the Night."
Of special note is Israel Martin's fine piano work, especially on "The Love of Jesus" and "Middle of the Night." He leads a large group of musicians, including Beverly's husband William D. Heath, who also produces the album.
Three of Five Stars
Picks: "Covered," "Middle of the Night"