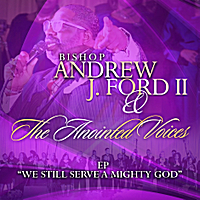 Bishop Andrew J. Ford II & The Anointed Voices
EP from the forthcoming CD
We Still Serve a Mighty God
www.fordmemorial.com
By Bob Marovich
By means of an EP and the current radio single, "A Mighty Good God," Bishop Andrew J. Ford II & The Anointed Voices of Ford Memorial Temple are giving gospel music enthusiasts a taste of their forthcoming CD, We Still Serve A Mighty God.
A choir director since his teenage years, Ford parlayed his fondness for gospel choral singing into the founding of Sweet Rain Records. The label recorded such artists as the Wilmington Chester Mass Choir and introduced the world to Hezekiah Walker and the Love Fellowship Crusade Choir.
Ford begin pastoring in 1993 and is the head of Ford Memorial Temple, a Pentecostal church in Philadelphia. In 2002, he and his choir, The Anointed Voices, recorded the exceptional It's Our Time! But It's for God's Glory! for MTM Records. If the Journal of Gospel Music were around then, we would have given the album four stars and raved over Margaret Bell Byars' extraordinary performance of "Just a Simple Praise." Read GOSPELflava's 2002 review here: www.gospelflava.com/reviews/fordmemorial.html
The Anointed Voices have that extroverted, full-throated East Coast singing style that envelops a melody with thick harmonies. Rebirth is a theme that permeates the EP, and it most specifically articulated on "A Mighty Good God" (I'm a living testimony), "I'll Never" (don't measure me by my past) and "Higher" (better things are coming).
While the EP doesn't contain a song of the magnitude of "Just a Simple Praise" or the ferocious "Didn't I Tell You," also from the group's 2002 project, "Every Chance I Get," led by Lady Crystal Knight, is a strong contender. It sounds like a classic anthem on hyperdrive, majestic and galloping, with Knight enthusiastically tearing up the church during the vamp.
Three of Five Stars
Pick: "Every Chance I Get"