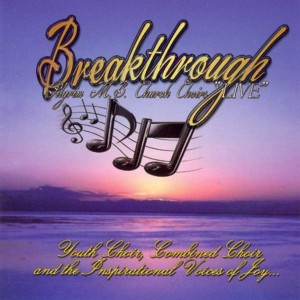 Breakthrough
Pilgrim Missionary Baptist Church Choirs "Live"
Independent release 2008
(708) 237-3779
I'm not certain exactly when churches recognized the fundraising, membership development and public relations potential of producing records of their gospel choirs, but my guess is it took hold in the early 1950s.
The earliest known progenitor of this practice was the St. Paul Baptist Church of Los Angeles, whose "Echoes of Eden" choir had a recording resume reaching back to the late 1940s, though to be fair, they were on Capitol, a major label.
Other early adopters included Chicago's St. Paul COGIC, Tabernacle Baptist, Greater Harvest Baptist, Fellowship MB and First Church of Deliverance; and Newark's Greater Harvest Baptist Church. The Angelic Choir of the First Baptist Church of Nutley, NJ was a simple, ordinary singing group, but when it teamed up with James Cleveland in the early 1960s, it became a smash recording artist that delivered volume after volume of popular LPs for Savoy Records. Its Peace Be Still album (September 1963) is one of the most influential gospel albums of all time.
The volume of DIY church choir albums exploded in the 1960s and 1970s, as the costs of producing bare-bones full-length projects diminished. Idessa Malone of Staff Records produced a number of early church recordings, including Rev. Clay Evans and Fellowship's earliest releases. Witnessing Records of Kansas City had a catalog of choir records and sermons. Then a couple of these "vanity" pressings actually became overnight sensations. It was the on-location recording service Century Records that introduced the international smashes "Oh Happy Day" for the Northern California State Youth Choir (Edwin Hawkins) and "God Gave Me a Song" for the Interdenominational Youth Choir of DC and Maryland (Myrna Summers).
Today, just about every church that has a decent music ministry – and even some that don't (!) – has produced at least one CD to raise money for capital projects and garner greater attention to its ministry. The CDs are purchased by members and their friends and other gospel music enthusiasts, and the better ones get played on local radio stations. And there's always the possibility that an overnight sensation can turn the church choir into a cause celebre at the level of an Angelic Choir or the Echoes of Eden.
Following in this tradition, Pilgrim Missionary Baptist Church of Hickory Hills, Illinois, a suburb southwest of Chicago, just released its own DIY album, called Breakthrough. Recorded at Chicago's storied Greater Walters AME, the first half of Breakthrough contains three performances each by the Youth Choir and the P&W-focused Inspirational Voices of Joy. The second half is a concert by the Combined Choirs.
The jazz-savvy musicians, under music director Brian Lofton, steal the show. They come together like the King Cole Trio on "Much Obliged," which the Inspirational Voices of Joy imbue with Pointer Sisters-like pop harmonies oozing with dynamic tension. Frankie Blaze, Danny Dowd and Isaiah Sharkey provide crackling guitar work throughout the album, especially on the opening track, "Bless the Lord."
While Prophet Todd Hall's stimulating evangelism on "Let Jesus Come Into Your Life" turns up the heat, the capstone cut on the album is "Job Said." It's the album's only churchy choir workout, with lyrics borrowed from the jubilee tradition, as Sally Hall-Durrell delivers a lesson on Job (always a good jubilee topic). She leads the choir with the musical wisdom of a seasoned church wrecker.
Breakthrough is an enjoyable listen that will garner fans beyond the confines of Pilgrim M.B. Church.
Two and a Half of Four Stars