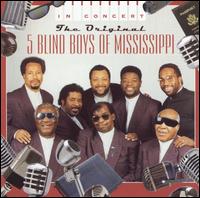 From Mrs. Henry Thomas-Harrison of Down Home Gospel Productions in Chicago:
Brother Joe Watson of The Blind Boys of Mississippi passed away Monday, February 5th, 2007 at 7:55 p.m. at Yale Hospital in New Haven, Connecticut.
Brother Joe Watson joined the Blind Boys of Mississippi in 1975. He was 64 years old, the youngest in the group. His funeral will be Friday, February 16th in Kannapolis, North Carolina.
Funeral services at:
New Life Baptist Church
1281 Biscayne Drive
Kannapolis, NC
Rev. Terry Moody officiating
Another soldier gone home. RIP Joe Watson.