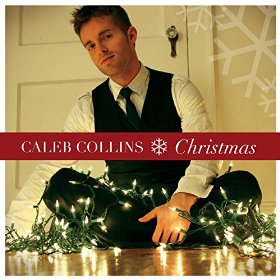 Caleb Collins
Caleb Collins Christmas
Caleb Collins Music (2015)
www.calebcollins.com
By Bob Marovich
Singer-songwriter Caleb Collins of the Brooklyn Tabernacle Choir hits a long ball home run with Caleb Collins Christmas.
Evoking modern day crooners Michael Buble' and Harry Connick Jr., Collins sails with verve through lushly orchestrated versions of sacred and secular chestnuts, such as "Let It Snow," "Joy to the World," and particularly dramatic arrangements of "O Come O Come Emmanuel" and "What Child is This." "God Rest Ye Merry Gentlemen" gets a Latin workover with a James Bond-ish open. "Silent Night" has a bluesy feel. Rachel Williams-Baggett assists Collins on the melancholy "I Heard the Bells on Christmas Day."
A swinging jazz combo, featuring superb work on electric guitar and piano, is the perfect foundation for Collins's engaging baritone.
Original songs for the CD include the new age inspirational "Bethlehem Morning," a lovely ballad Collins sings with contemporary gospel/CCM vocalist Morris Chapman. "The Story of Us" is not a Christmas song but a beautiful paean to the power of love that has been forged in the fires of life's challenges. The most gospelly track on the CD is "Sweet Time of the Year."
Deeply involved in religious music since his upbringing in Idaho, Collins has a voice ready made for the American Songbook. Underpinning his Christmas songs with arrangements that sound copied from the postwar golden era of Christmas recordings is ideal.
With real instruments, no smooth jazz schmaltz, and Caleb Collins's eminently likable singing, what's not to enjoy about this album? While some pop superstars put out Christmas albums that, in the end, sound more like quick money grabs, Collins is a guy who ought to do a Christmas album. His is one that belongs in the time-honored classic Christmas catalog.
Five of Five Stars
Picks: "Bethlehem Morning," "Let It Snow."