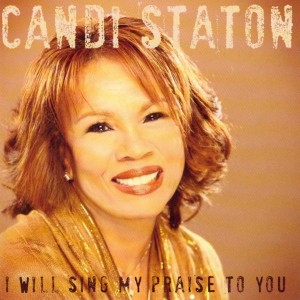 Candi Staton
I Will Sing My Praise to You
Emtro Gospel/Beracah Records 2008
www.emtro.com
As a teenager, Canzetta "Candi" Staton sang gospel with her sister Maggie and the Harrison girls Naomi and Nettie Mae as the Jewell Gospel Singers. They recorded for Aladdin in 1953, and two years later shifted to the mid-South's Excello and Nashboro labels, where they were known as the Jewel Gospel-Aires and the Jewel Gospel Trio, respectively. Some of the group's top singles from the mid-50s included "Many Little Angels in the Band" and the appropriately unhurried "Too Late," featuring Candi on lead.
In the 1970s, Candi made her mark on the disco generation with the smash dance hit "Young Hearts Run Free." A life filled with challenges eventually drew her back to singing for the Lord. Her latest release, I Will Sing My Praise to You, is out on Troy Sneed's Emtro label, the same company that gave you the sensational Bonafide Praisers.
On her new CD, Candi sings through a variety of styles, from the slow and emotional praise and worship music that opens the album to Christian power pop ("Our God Saves") and even through a little Kraftwerk-like techno on "I Will Rejoice." Of course, there's plenty of bluesy gospel here, such as "Just Jesus," on which Candi delivers some personal testimony. Gospel blues also supports "Don't Miss Your Moment" and the poignant "Grace, They Call it Amazing." "Butterfly" has an infectious hand-clapping chorus with a sanctified backbeat and is one of the CD's highlights. The final track, "It's Your Season," hearkens back to Candi's glam days on the disco stage, with aggressive dance beats propelling the performance forward.
Candi Staton emotes, testifies and teaches without any of the histrionics. It's as if she's just standing on the altar of the church, sharing her story matter-of-factly, warts and all, a sacred recitative delivered with the gut-wrenching fire of a singing evangelist and the dignity and wisdom of Maya Angelou. Even on cheerily charming songs such as "Undignified" ("I've got to get radical for the Lord"), Candi can evoke a far-distant cry in her voice.
Her background singers deserve special mention, as they are simply amazing. In many respects, the album ought to have been titled Candi Staton and the (insert name of group), because they play that prominent of a role in the production. Among the singers are Candi's daughter Cassandra Hightower and…well, what'ya know, there's sister Maggie Staton, too. John Brockman multi-tasks as producer as well as musician and vocalist.
Canzetta Staton has come full circle back to gospel, and we are the better for it.
Three of Four Stars