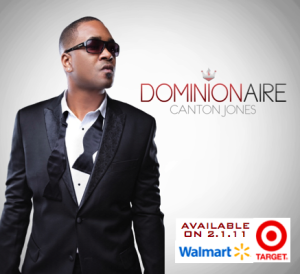 By Bob Marovich for The Black Gospel Blog.
On February 1, award-winning singer, songwriter, producer, vocal arranger and entrepreneur Canton Jones released his latest project, Dominionaire.
It's his first double disc and the first release on his new label, CAJO Records.
Jones spent time with TBGB on the project's release day to describe the new CD and what it means to be a "Dominionaire."
Why a double disc? "It had been so long since I had a project out," Jones explained. "I had so much music I wanted to release. In fact, you'd be surprised how many songs did not make the album. We settled on these 22 tracks because they were the best ones to represent me at this point in time, where I am in my life."
The music on Dominionaire, explained Jones, "goes from hip hop to R&B to what we call R&P – 'rhythm and praise' – to jazz. There's straight praise and worship, even a steppers' groove! There's something on the CD for the entire family.
"I make CDs for the family," Jones added. "So if parents have children who are listening to the music, I want them to enjoy the experience as well. I don't want it to be like, 'Mom likes it but the kids don't,' and vice versa. We want it to be a family experience," Jones laughed, "almost like Disney!"
On the origin of the album's title, Jones explained, "Dominion is the name of my son. We named him Dominion because when my wife was five months' pregnant, the doctor said that his heart stopped beating. At that point, we took authority over the situation. We said, 'Our child isn't going to be like this.' We took dominion over death and sickness, invoking the words of Jesus Christ.
"We added the 'aire' to Dominion to give it that quartet feel. My dad, who sang quartet with the Nobleaires, went on to be with the Lord last year. The title in part pays respect to the quartet movement. But it also has that prestigious feel of having an abundance of dominion."
The two-CD set features a lineup of major gospel talents, including Deitrick Haddon, James Fortune, Keith "Wonderboy" Johnson and Mr. Del. Jones' wife and mother are also among the guest artists. "A lot of people pitched in to make this project happen," Jones replied.
The first single from Dominionaire, "Window," is already impacting radio. "People need to hear something positive, they need something to look forward to," Jones explained. "The song simply says, 'I see a window over your head and it's pouring out blessings.'"
Most importantly, the thematic content of Dominionaire is in step with the worship warrior movement heralded by groups such as Shekinah Glory Ministry and worship leaders such as Phil Tarver. In a nutshell, it's taking a proactive position over the forces of evil.
"Dominion is the theme, taking dominion, taking authority, taking over because of the authority you have in Jesus' name," Jones said. "On 'Be Healed,' you take dominion or authority over sickness. There's a song called 'In Da Club,' where you take dominion over a club where Christians wouldn't be allowed, or at least they definitely wouldn't be dominant.
"On the song, 'That Devil,' the line goes, 'if anybody sees that devil, tell him I'm after him.' Some old songs say, 'the devil thought he had me, but I got away,' meaning you were being chased by the enemy. 'That Devil' states, 'if anyone sees the enemy, tell him I'm after him.' It's a different mindset from being somebody who's kind of passive as a Christian to somebody who walks in dominion, in authority, like God told us to.
"In the proactive mode, you make things happen," Jones continued. "You take charge of the situation you are in, and you don't necessarily wait until you are attacked. So, for example, before there's a need for healing, we claim health. That is a proactive instead of a reactive mentality. That's what Dominionaires are. We're coming to take over and recover all; we're not necessarily going to keep fighting the enemy off. We're going to squash the enemy until he goes away!"
The album encourages listeners to have confidence in their role as children of God.
"If we realize we are sons and daughters of God," Jones said, "then we will have more confidence in our ability to ask Him for what we want and need. People are familiar with 'God will supply all your needs,' but they are also familiar with 'The Lord is my shepherd; I shall not want.' In other words, He's going to eliminate your wants AND give you what you need.
"For example, my child may do something bad in school or be reprimanded by her teacher, but she's still going to have food, she's still going to have the best clothes, all of the best that I can supply her with because she is my child. She may have to go to bed early or something like that, but she will still get everything she needs simply because she's my child."
What advice does Jones have for new and emerging artists?
"I tell artists, 'you were born with a distribution deal: that's your right leg and your left leg.' You have to be aggressive. You should distribute the truth to as many people as you can, and if you are faithful over a few, God will make you ruler over many. When you've done all you can, passed out as many CDs as you can, and sing as many places as you can locally, then God will see that faithfulness and take you to the next level. You can't be a superstar overnight. Before you go across the world, make sure the person across the street knows who you are."
Now that their new CD has hit the stores, Canton Jones and his team are preparing to tour Germany. A Dominionaire tour is in the works for March and April of this year. "This generation is dying and they need hope," Jones said. "We want to give our young people the truth and the truth will make them free."
For more information, visit http://www.cantonjones.net/.