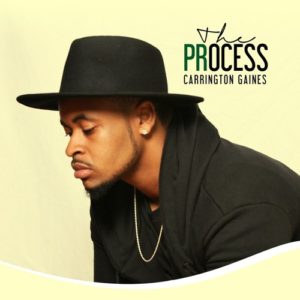 By Bob Marovich
"I didn't know I could sing until I was about fifteen," Carrington Gaines told the Journal of Gospel Music, "which is pretty late for most gospel artists. Some of them have been singing since they were three!"
But as a youngster, Gaines embraced R&B, not gospel, as his music of choice. He also spent a good part of his early life in a spiritual tug-of-war. During his late teens, he said, he could be found partying on Fridays and Saturdays and working in the church's music department on Sundays.
Today, Gaines has embraced ministry and gospel music. His debut EP, The Process, was released last November and continues to make noise.  One song from the EP, "Closer to You," was JGM's Pick of the Week last week.
Born in Youngstown, Ohio, but raised in Buffalo, New York, Gaines belongs to Buffalo's Bethesda World Harvest International Church, under the leadership of Bishop Michael Badger.
"Since I did sing, my church would try to make me sing, even when I was doing all of that [partying]," Gaines said. "And sometimes when I knew I was doing too much, I would sit myself down. I felt it wasn't right for me to be up there singing about God, and then I'd be singing in the club later that night. I wanted to take a back seat, or no seat, with the praise and worship team and the music department. I would work the sound board or something like that. I just wouldn't put myself out front."
He fought this struggle for the better part of two years. It was taking its toll.
"I was tired of the partying and drinking and all type of stuff," Gaines said. One week I'd be gung ho, running for Jesus, and the next week, I would start back doing what I was doing. But I didn't want to make a mockery of the church. I didn't want people looking at me and saying, 'See, this is why I don't like church people,' or 'that's why I don't take [church people] seriously' because they see me on Sunday doing one thing and then Friday and Saturday nights they see me doing something else."
The spiritual tug-of-war ended after his cousin was killed in an automobile accident.
"He was basically like my brother," Gaines reflected. "We were six months apart. We grew up together. The person driving was drunk. You never really think something like that will happen to you or somebody you are close to. I was already trying to leave that stuff alone, but after that, I was like, 'Okay, I'm finished.' Once I gave Him a real yes, then that's when I felt right. My songs changed because my life changed."
Ask Gaines about the first gospel song he wrote to express his journey to Christ, and he laughs. "I never recorded it, and I never would! I doubt I'll ever use it—I haven't even talked about that song until now!"
He was far more pleased with "Closer to You," another composition on the same subject. He did record this song, adding it to The Process.
"['Closer to You'] is about when you are fully committed [to God] but you still struggle, you feel a little lonely, and you need to be closer to God because this thing is not feeling too good right now."
Gaines describes his musical style as "very eclectic. I have an urban sound, but then I have a more contemporary worship sound. I don't know what is going to come out. I start writing and, depending on what the melody sounds like, that's where I take it."
Jonathan McReynolds is one of Gaines's favorite artists, although he is also an avowed enthusiast of 1980s contemporary gospel music by the likes of groups such as the Winans and Commissioned. "It's my favorite era in gospel, even though I wasn't born yet," he laughed.
Released late last November, The Process is opening a lot of doors for Gaines.
"The Process is about getting to where I was with God," he explained, "getting the walk right and what you go through to get there. I want to show that you can go through whatever you got to go through, but go through it. You will see the benefits once you go through your process."
He added: "But I wouldn't say it's a journey to where I'm at now, because I've grown since then. I'm ready to get back to [recording] so I can tell everyone where I'm at." A full album is indeed the works. Gaines plans to go back to Atlanta in August or September to meet with his producer.
"I'll See You Again," another song on The Process, was written in memory of his late cousin. "I knew it would help me because it was personal," Gaines said, "but I didn't know it would help so many people. Everybody can relate to losing a loved one."
"I'm not hiding anything," Gaines said. "I'm talking about real life, things that people really go through. Jonathan [McReynolds] uses 'Life Music' and that's a good term. I use 'Message Music' because I want you to really catch what I'm saying, as opposed to just the beat or the production or the melody."
For more information on Carrington Gaines, visit his Facebook page at https://www.facebook.com/carringtongainesmusic/.