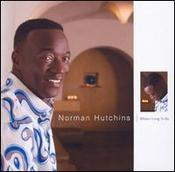 TBGB reviews…
Where I Long to Be
Norman Hutchins
JDI Records 2006
www.jdirecords.com
Dr. Norman Hutchins has a knack for writing gospel lyrics that become standard church parlance and songs that become compulsory for choirs to learn and perform. "God's Got a Blessing (With My Name on It)" is the most famous example.
This is no coincidence: Hutchins's music is designed with church folk in mind. The latest proof of Hutchins's church roots is on his new CD, Where I Long to Be. Throughout the project, Hutchins shifts back and forth with ease between traditional and contemporary sounds, and without any feeling of contrivance or sense of obligation. With his vocals planted firmly in the traditional church, Hutchins gives even the most contemporary of sacred songs a short lesson in gospel blues when he sings.
Indeed, the standout tracks on Where I Long to Be are the churchy ones, particularly the opening "Get Ready for Your Miracle" (another likely entry into the lexicon of religious phrases), and the pentecostal "Everything Will Be Alright," which features a splendid vocal by Shervonne Wells of the Kurt Carr Singers. "Because of You" also has a drop of old-church in it.
"Testimony" confirms the CD's live in-service feeling. The project is supported by high-volume and powerful singing from The "A" Team, a group of background vocalists that any gospel artist would die to have supporting him or her.
Dr. Norman Hutchins's star continues to rise, and it's because he lets his roots show while pushing the gospel music envelope forward.