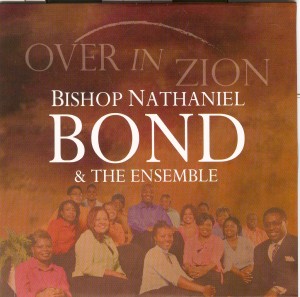 "Over In Zion"
Bishop Nathaniel Bond & The Ensemble
From the CD A Message of Faith
4 Life Miracle Records 2006
From Joe Horn's quartet-centric 4 Life Miracle Records and produced by the Christianaires' Paul Porter with Terrell "Midge" Gatlin, "Over In Zion" is one hundred percent uptempo, hand-clapping quartet sound from a subset of Bishop Bond's DHP Mass Choir, aptly dubbed The Ensemble, despite a perplexing but age-old avoidance of that particular term in gospel music.
The lyrics, which interpolate lines from traditional hymns, communicate the joyful anticipation of going to the other side of the river. If dying is this joyful, nobody need fear the coming of the day and the hour.
Bishop Bond and The Ensemble hail from Jackson, Tennessee.