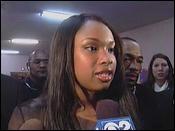 If you were among those who applauded Chicago's Jennifer Hudson after her Oscar-winning, show-stopping performance of "And I'm Telling You I'm Not Going" in the musical Dreamgirls, you were applauding a 100 percent gospel performance with secular lyrics.
Yesterday, Hudson's singing at the 79th Annual Academy Awards ceremony once again demonstrated her gospel roots. And Chicago gospel at that, with its unbridled urban fortissimo and melismatic complexity that could pose a challenge for even the most skilled of music transcribers.
Hudson, the former American Idol contestant and America's newest rising star, honed her singing craft as a member of a gospel chorus. Her church home is Progressive Baptist Church on Chicago's South Side.
Chicago — especially the city's gospel music community — is so proud of Jennifer Hudson we could just shout!