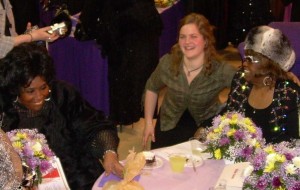 A red carpet led to the door of Bishop Larry D. Trotter's Sweet Holy Spirit Church on Chicago's southeast side Friday night, March 28. The living legends walking along the red carpet, bathed in the glow of rotating searchlights, represented some of the finest and most significant artists in gospel music history.
Behind the celebration was the newly formed Gospel Music According to Chicago (GMAC), which hosted the press reception to formally announce the GMAC Hall of Legends Induction Ceremony, to be held Monday, September 8, 2008 at Christ Universal Temple.
Members of the first Induction Class (2008) present for the press reception included * DeLois Barrett Campbell and the Barrett Sisters
* Drs. Charles G. Hayes and Charles Clency (Cosmopolitan Church of Prayer "Warriors")
* Rev. Stanley Keeble
* Vernon Oliver Price
* Delores Chandler-Matthews and Ethel Holloway (Thompson Community Singers)
* Lorenza Brown-Porter (Argo Singers)
* Lou Della Evans Reid (Fellowship MB Church Choir)
* Eugene Smith (Roberta Martin Singers)
* Rev. Maceo Woods and Doris Sykes (Maceo Woods Singers and Christian Tabernacle Ensemble)
* Bishop William Treadwell (Treadwell Community Singers)
* Albertina Walker and Inez Andrews (Caravans)
* Rev. Dr. Isaac Whittmon (Greater Metropolitan Choir)
* Kenneth Woods (Sallie Martin Singers, Knowles & Jackson Singers)
Inductees unable to be present were Lucy Smith-Collier (Little Lucy Smith Singers, Roberta Martin Singers), Mother Ann Yancy (Sylvia Boddie Singers, Willie Webb Singers), Rev. Jessy Dixon, Elder George Jordan (Christian Tabernacle Ensemble), Rev. Clay Evans, and Bertha Melson (Lux Singers).
Two honorees – Rev. Charles Fairchild and Dr. Robert E. Wooten, Sr. – recently passed away and will be inducted posthumously into the Hall of Legends in September.
Gospel artist Angela Spivey served as MC for the evening. Also providing remarks were Hall of Legends Induction Committee Chair Dr. Ray Allen Berryhill, quartet promoter and Reception Chairlady Sasha Daltonn, radio announcer Elder DeAndre Patterson, and Bishop Trotter, the latter fresh from the hospital where he recently underwent surgery. Singer Ron Barrett rendered some old time numbers, including Raymond Rasberry's "Only What You Do for Christ will Last."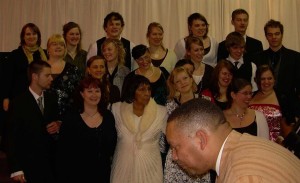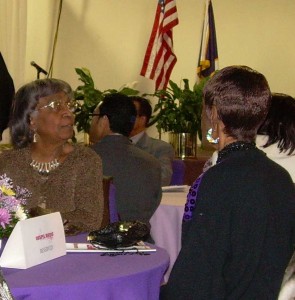 A special treat was a compelling a cappella version of "King Jesus is A-Listening" by the Swedish College Gospel Choir from Glimakra Folkhogakola of Glimakra, Sweden. Gospel historian Professor L. Stanley Davis introduced the group and gave the history of how Sweden got its first taste of gospel music in 1966 when the First Church of Deliverance Choir toured the country.
Missing in person but not in spirit was the mastermind behind GMAC, Dennis E. Cole, the president of the Chicago Area Gospel Announcers Guild, who is recovering from a bad fall this winter and was unable to attend. But Dennis' ears were a-buzz as dignitary after dignitary praised his vision for seeing the organization come to fruition.
GMAC is an organization dedicated to celebrating Chicago gospel artists who left an indelible imprint on the music. Its goal is not only to honor the legends and to provide each new induction class with a beautiful statue, but to help those who need it with medical and other life-improving assistance.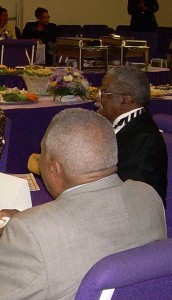 Watch TBGB for more information on the September 8 Induction Ceremony.
Photos: top (DeLois Barrett Campbell with Albertina Walker), middle left (Vernon Oliver Price and Doris Sykes), middle right (Inez Andrews with the Swedish College Gospel Choir), bottom (Bishop Treadwell with Eugene Smith).