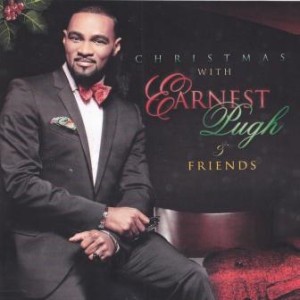 Earnest Pugh
Christmas with Earnest Pugh & Friends
EPM Music Group (2012)
By Bob Marovich for The Black Gospel Blog.
Now that the air is chillier (at least in the North), thoughts turn to Christmas and the holiday album blitz.
First up for TBGB this 2012 season is Christmas with Earnest Pugh & Friends. It is a collection of original songs and new takes on classic carols led and produced by Pugh and featuring a team of emerging as well as veteran gospel artists.
Known as Gospel's Leading Man, Earnest Pugh possesses a handsome baritone voice that can caress a song and sanctify it at the same time. It is this technique that helped his gospel hits "Rain On Me" and "I Need Your Glory" cross over onto the Adult R&B charts, and it is this technique he employs on his Christmas CD.
The album's most memorable duet is Pugh and the lovely Lisa Knowles on a faithful rendering of "O Come, All Ye Faithful." Do You Hear What I Hear," a solo by the talented Chrystal Rucker, is another evergreen sung very close to the original.
On the other hand, the initial single, "Ring Dem Bells," is not the Duke Ellington piece but "Carol of the Bells" given a contemporary gospel spin. Similarly, "New Born King" is not the Angelic Gospel Singers' mainstay but a modern gospel ballad about how Jesus laid aside his royalty to live as a common person in fulfillment of his father's plan.
"Silent Night" possesses one of the album's most unconventional arrangements. Not at all silent nor based on the original melody, this adaptation features a hard hitting handclap beat that sounds imported from the playbook of Mary Mary or Trin-i-tee 5:7.
The guest soloists dive into their respective songs with passion, such as Nikki Ross on "Walk In the Light," a complex and dramatic Thomas Whitfield composition. Martha Buries proffers her pleasant voice on Ann McCrary's "Remember Not 2 Forget." This musical reminder to keep Christ in Christmas comes off sweet and genuine, not pithy or preachy
.
Thankfully, Donny Hathaway's "This Christmas" is not one of the album selections, not because it is not a good song, nor that Pugh would not do a fine job with it—it is and he would—but it has been overdone recently.
Those who appreciate Earnest Pugh's relaxed vocal style will enjoy Christmas with Earnest Pugh & Friends.
Four of Five Stars
Picks: "O Come, All Ye Faithful," "Ring Dem Bells."