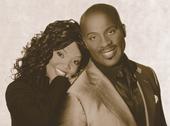 "Close to You"
BeBe & Cece Winans
Malaco/B & C Records 2009
www.myspace.com/bebeandcecewinans
Not to be confused with the Carpenters' 1970s hit of the same name, this "Close to You" is a sweet, melodic gospel-pop ballad from the pen of BeBe Winans.
BeBe and CeCe trade leads with ease, and harmonize as only longtime singing siblings can. Their individual popularity, and the fact that they haven't sung together on record for fifteen years, will propel this single up the charts.
"Close to You," the first single from the brother and sister's forthcoming project, is as much a love song to Jesus as it is a love song between two people. Engaged couples seeking a gospel song for the wedding will want to invite this single to their service.