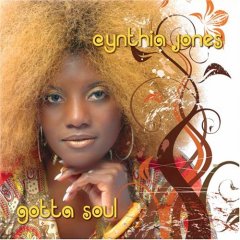 Cynthia Jones
Gotta Soul
Kingdom Records 2008
www.kingdomrecordsinc.com
You may not be able to judge a book by its cover, but sometimes you can judge a CD by its cover.
Especially in the case of Cynthia Jones' Gotta Soul.
On the cover (above), Jones is bedecked in an ultra-hip top and earthy jewelry, and coiffed in a fetching, artsy and colorful Beyonce-as-Foxxy-Cleopatra 'do. She is flanked by groovy '70s flowery designs of brown and orange. One of the tracks, "Love Jones," riffs on the title of the Brighter Side of Darkness hit from the soulful seventies. All of this doesn't just suggest that Jones is a neo-soul evangelist, it shouts it. And Jones delivers on the presumption.
Though raised in the COGIC church, Cynthia Jones is not a run-down-the-aisle gospel singer. At the same time, and in the finest spirit of COGIC, she plants today's sound deep into her music ministry. She delivers an evangelical message in a crisp, intimate voice, as if she's perched on a stool and her immediate audience is hanging out in her living room or the corner cafe. She's sassy and playful with the lyrics, reminiscent of Erykah Badu, Tracy Chapman and India.Arie. Behind Jones, guitars wah-wah, the keyboard sounds like the string section of the Love Unlimited Orchestra, and the bass digs in deep, making Gotta Soul accessible to those who don't yet know they like gospel music.
On her recent hit single, "Live Right," Jones puts the scat in escatology. She soothes listeners with a smooth jazz soundtrack, scats when the spirit moves her, and reminds everybody that they'd better be ready for the judgment anyhow.
The title track teaches the Golden Rule, no exceptions, because everybody's "gotta soul." And "Something About that Name," another potential hit, is soft and groovy, with Jones purring out the praise one moment and worshipping powerfully the next.
Cynthia Jones is more jazz clubby than churchy, but her message is straight outta the KJV.
Three of Four Stars