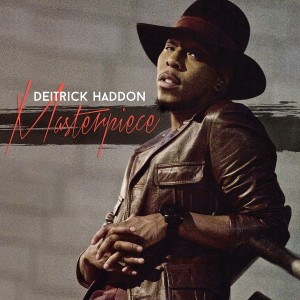 Deitrick Haddon
Masterpiece
eOne/DH Visions/Releve' Entertainment
(release date: November 6, 2015)
www.eonemusic.com
By Bob Marovich
We are blank canvasses that God, the ultimate artist, fashions into beautiful works of art, declares Deitrick Haddon on the title track of his new album, Masterpiece, released yesterday.
But it's the blank canvas or, more accurately, the damaged canvas, not the finished painting, which captures Haddon's interest. Observing from the rarefied air of a man "who ain't got nothing to prove or lose," he warns humanity to clean its canvas by getting right with itself and with God. Why? Because this is his story, too, and the songs are the illustrations.
In "Be Like Jesus," Haddon is upbraided for "cutting up" on the Preachers of L.A. unscripted television drama. Rather than use the song to focus on the hypocrisy of church folk who judge others with a plank in their own eye, he uses the clash to explain how his "cutting up" is nothing more than being 100 percent real, just as Jesus was 100 percent real.  Later, during "Perfect Storm," Haddon uses gospel's longstanding storm metaphor to explain how the Lord not only protects us from storms, but reminds us that they don't last forever and can be educational: "He used the worst in me to bring out the best in me."
The musical soundtrack for the confessional first portion of the album is appropriately reflective and introspective. Though steeped in electronica and urban AC, the tempos are methodical and sterner than one is used to hearing from Haddon. On the churchy "Lay it Down," for example, Haddon borrows R. Kelly's hip hopera recitative style to riff on "take your burden to the Lord and leave it there." The "past is over and it's time to move on," he sings.
However, by the time the album comes around to the current single, "Restore Me Again," the storm is lifted and the songs, lyrically and musically, are bright and optimistic for the remainder of the album. The good-naturedly and playfully goofy Deitrick Haddon is back, awakened as if from a Scrooge-like dream, wiser and more positive than before. In celebration, he offers uptempo jams that celebrate possibility ("On the Way"), encouragement ("Testify"), and hope ("Got a Feeling"). Here, Haddon pulls on Prince's oversized multi-instrumental and polyrhythmic sound.
Masterpiece finds Deitrick Haddon maturing in perspective but, in the end, maintaining as much musical swagger as before.
Four of Five Stars
Picks: "Restore Me Again," "Lay It Down."