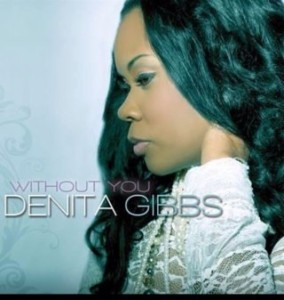 Denita Gibbs
Audiostate Entertainment 55 (released August 13, 2013)
www.audiostate55.com
By Bob Marovich for The Black Gospel Blog
Without You is Denita Gibbs' sophomore release but her first for Audiostate 55 Entertainment and its muscular distribution. It is also her first album in nine years but it is well worth the wait.
A delightful, impressive project with quality song compositions, Without You is sung and performed with aplomb and given crystal clear production by Daniel Mosley, James Bevelle, and label prexy Dr. Henry Panion III.
Gibbs, like the label, hails from Birmingham, Alabama. She is a confident singer, her voice equal parts brassy and whispery. Evoking contemporary gospel thrushes Kierra Sheard, Cheneta Jones, and Alexis Spight, Gibbs shifts from urban AC to jazz to neo-soul without giving the listener aural whiplash because she is comfortable in all these styles and makes them her own.
For example, she moves from the fizzy "Joy" to the poppish "Even When," a meditation on "there but for the grace of God go I." "Worthy" is a praise ballad with a jazz foundation but a hard-singing gospel vamp at the end, while "Arise" is neo-soul. The throbbing rhythm of "His Name" is power praise, catchy and bold.
The title track is an exquisite praise ballad, one of the year's best inspirational selections, buoyed by Cameron Sankey's piano and lush strings, courtesy of the Alabama School of Fine Arts String Orchestra. Hearing a real string section is a treat in a day when synthesized brass and strings are the unfortunate norm.
Denita Gibbs is a singer deserving of national attention and Without You deserves greater exposure.
Five of Five Stars
Picks: "Without You," "Worthy"