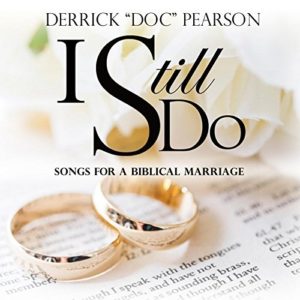 Derrick "Doc" Pearson
I Still Do: Songs for a Biblical Marriage
I AM Music Company (release date: April 7, 2017)
www.iammusiccompany.com
By Bob Marovich
Love songs have become quite popular in gospel music.
Perchance inspired by Kim Burrell's 2011 The Love Album, or Fred Hammond's 2012 2-CD release, God, Love, and Romance, several artists have written and recorded songs about Bible-based love.
Some even make for good wedding ceremony material. One of the most popular essays on the Journal of Gospel Music is a list of gospel songs fit for a marriage ceremony.
I Still Do, Derrick "Doc" Pearson's new collection of songs about marriage, echoes Hammond's album by using biblical reference points to examine the phenomenon of human love from euphoria to navigating personal differences to rekindling the spark.
Depending on your point of reference, the album's musical accompaniment is either Quiet Storm or Winans. I'm going with Quiet Storm because of bass player Pearson's foundational work with soft soul groups such as the Whispers. As on his 2015 No Greater Love project, Pearson writes the songs and hands the mic to guest vocalists who interpret them as soloists or in duet.
The title track is emblematic of the entire project. To a creamy smooth 1980s R&B ballad underlayment, the late Al Johnson (of the Unifics) and Kathy Horry croon the magic of a lasting marriage. "Bind Us Together," also featuring Kathy Horry, is ready-made music for a wedding ceremony or celebration.
But not all is bliss in Love Land, Pearson admits. He and wife LaMar offer a brief skit called "Adjustments (We Must Adjust)," which concludes that compromise starts when we first understand ourselves. Though too quickly dismissive of conventional marriage counseling, "In God's Hand," featuring Stephan Terry and Amy Tucker, suggests that God is the ultimate marriage counselor.
The album's most up-tempo selection, "Forgive Forget," finds E.J. Thomas and Cherlita Claiborne chanting forgive, forget and move on. Though one might not expect a holiday selection to appear on the collection, Stephan Terry's "Quiet Christmas Night" is a satisfied parent enjoying a Norman Rockwell-esque Christmas with the family. Terry is featured frequently on the collection.
Pearson peppers his album of serious messages with tongue-in-cheek humor, such as on "Adjustments." On another interstitial skit, "The Encounter 3," Pearson suggests pre-marital counseling to a fan, with disastrous results. Perhaps seeking the services of a divorce lawyer would be best because after all, not all marriages are able to be saved. Although some people of faith frown upon divorce, it's often the only resort in troubled marriages.
The backside of the CD includes a warning that "this CD is for married couples ONLY! Experiencing music from this CD while unmarried may cause unwanted side effects." So confirmed bachelors and bachelorettes beware! But not really-this is Pearson's fun side coming out again-because despite the album's exposition of the good and the bad of marriage, I Still Do comes down solidly on the side of good.
Four of Five Stars
Pick: "I Still Do."