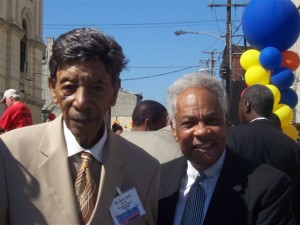 For those who have contacted me to learn whether James Davis, longtime member of the Dixie Hummingbirds has passed, I have confirmed that he died on Tuesday, April 17. The funeral will be on Friday, April 27 in Philadelphia. I will post more details as I receive them.
In the photo, Davis (left) poses with Rev. Joe Williams who will officiate the homegoing ceremony. Special thanks to David April for providing the photo.
RIP, James Davis — you deserve your place in glory!