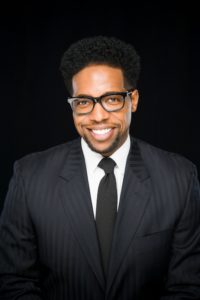 By Bob Marovich
"Bringing talented people together and finding their strong points and making beautiful songs" is the mantra of producer and record label owner Darrell Hines II. His ensemble REVERB's debut single, the acoustic-flavored "God First," is impacting gospel radio.
"I've been immersed in music all of my life," Hines told the Journal of Gospel Music. "I didn't get the gift of singing, but I got the love of music. It was just a matter of how I would fit in."
Born and raised in Milwaukee, Wisconsin, Hines comes from a long lineage of pastors. As a child, he attended his grandfather's church, Greater Westside Church of God in Christ. Then, in 1989, his father, accomplished singer, songwriter, and multi-instrumentalist Bishop Darrell Hines, founded Christian Faith Fellowship Church of God in Christ at 86th and Good Hope Road in Milwaukee.
After working on the technical aspects of his father's CD, Darrell Hines Live, the junior Hines discovered that producing was how he would fit into music. The Stellar Award-nominated album became his calling card. He began getting calls to manage local and national artists. Meanwhile, he remained active leading REVERB, Christian Faith Fellowship Church's young adult ministry.
"When [REVERB] started," Hines explained, "Carlita Harris built our Praise & Worship team. These were just young, willing people who were talented and gifted, and wanted to serve in ministry. They just wanted to give back to ministry, to God."
Once Hines had the idea to start a record label, he knew the main ingredients—singers, musicians, and technicians—were right there at the church. He named the new record company REVERB in honor of the young adult ministry. "Everything is right here at the church," he said.
Hines said that the label's first single, "God First," was also inspired by Christian Faith Fellowship Church. "Bishop [Hines] said that the Lord told him we really have to get back to keeping Him first in every part of our lives. In prayer, I asked, 'Lord, how can REVERB contribute to the vision?' God said: 'You need to record a song and call it "God First."'
Hines knew what to do next.  "I reached out to Carlita and told her what the Lord told me in prayer.  It resonated in her spirit, also. She wrote the song and one of our musicians [at the church], Antoine Reynolds, he produced the song, and the singers that sing Praise & Worship at our church, they recorded the song. It all came together really well. We believe God's hand is on it and it's our deposit into the vision."
"God First" by REVERB was released Sunday, April 24, 2016, on Bishop Hines's birthday. "We surprised my dad with the record," he said. "He didn't know anything about it. He's on the record. We sampled his voice on it. There's a snippet of him ministering on the record. He was really excited!"
The single has been picked up in several radio markets.  A longtime Milwaukee gospel announcer called it a "fresh, unique, and uplifting sound that gospel music really needs."
"That's what we were looking for," Hines noted. "We wanted it to sound new, and by that we mean we want to have our own lane on radio, so when people turn the radio on, ["God First"] doesn't sound like the last song they listened to."
He added: "The message is very strong: it's all about God. Sometimes gospel artists can get caught trying to keep up with the trend of music, but that can be dangerous, because you can lose the message and the song becomes more about the music and not the message. We wanted the music to be strong, but we didn't want to dilute the message of keeping God first."
"Radio is a slow and steady process," Hines explained, "but the song is starting to catch on in Michigan, in Milwaukee, and also the West Coast and L.A., and several markets in the South. We're trying to get as many people to hear it as we can, because once they hear it, they believe it, and they start to play it."
REVERB is now busy working on an EP of five to six songs. "What's fun about working with REVERB," Hines said, "is that it's seven voices, so we have the opportunity to get creative with how we arrange songs vocally. All the singers have something unique about their voice. We hope to explore some of that uniqueness through the EP and show people what each singer can do."
Hines anticipates releasing an album on the group and eventually enabling each vocalist to do a solo project. "I'd like to set them up to have music careers," he said. "REVERB Records can be the vehicle for them to minister the gospel through music, where they can trust who they are working with and be creative and express themselves. If that's what God is saying, then that's what will happen."
Recognized in March 2013 as one of Milwaukee's "40 Under 40," Darrell Hines II has a simple message for aspiring gospel artists: "First seek God and get an understanding of His plan for your life. If music is the plan, take the first step, then progressively move forward on your plan every single day. That's the only way we got [our single] done: we worked on it every single day until it was finished. That's how we are going to approach every project."
For more information, visit www.christianfaith.org.