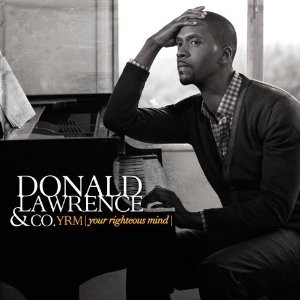 Donald Lawrence & Co.
YRM (Your Righteous Mind)
Quietwater/Verity
(release date: August 9, 2011)
http://www.verityrecords.com/
By Bob Marovich for The Black Gospel Blog.
Those enchanted by the GRAMMY- and Stellar Award-winning Donald Lawrence's previous work will appreciate that YRM (Your Righteous Mind) follows artistically in the footsteps of his most immediate predecessors, The Law of Confession Part 1 and I Speak Life.
On this, his third solo CD, Lawrence uses his authoritative voice to teach lessons, declare simple truths, send audibles to the choir, and explain the stories behind some of the songs, which are often inspired by teachings of favorite pastors (one appears here: Bishop Tudor Bismark of South Africa). Though its messages are diverse, a unifying element of YRM is the belief that you are what you, in your mind, declare yourself to be. When you affirm your personal "I Am," God will move in your life accordingly.
Time and again, the ensemble plucks similarly fundamental, and sometimes complex, themes from the Bible and distills them into simple, operational truths, such as on "Second Wind," based on the story of Caleb. "Spiritual," one of the album's already-released singles, proclaims we are all "spiritual beings having a natural experience." The song's sophisticated strut evokes Lawrence's 2008 hit, "Back II Eden."
There are many fine performances throughout the CD, but the ballad "II Chronicles" stands out in particular for its soaring majesty. And on "Through the Fire," the group doesn't gospelize Chaka Khan's 1985 hit but instead renders it nearly note-for-note. They just simply redirect the song's object of affection.
A number of A-team gospel artists join Lawrence & Co. on YRM, among them Dorinda Clark Cole on the hit title track, Israel Houghton on the poignant "We Agree," and fellow Chicagoan Kim McFarland on Walter Hawkins' classic "When the Battle is Over."
Besides the slate of fine soloists, much needs to be said about "& Co." It is a group of exceptional singers with perfect diction who deliver lyrics with precision and power. In a time when music can overtake the message, with Donald Lawrence & Co., you not only hear each word, but you also feel each word.
YRM has all the ingredients of a flawless gospel album: great songs, talented singers and musicians, a team of guest artists, superb production and well-articulated messages. Thus, when by the conclusion – and it feels like a conclusion – the ensemble sings "Anything can happen/If we agree," you know it will.
Five of Five Stars
Picks: "Spiritual," "We Agree," "II Chronicles."