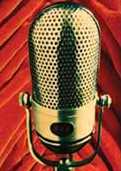 Once again, from the good people at www.EURweb.com:
Heavens Gateway, a 24-hour Internet radio station offering all Christian and Gospel Music, church ministries of all denominations, as well as positive and inspirational live talk, is now available.
President/Founder Dewayne L. Loving has chosen Mr. Ed Stephens Jr., President of the Virginia Gospel Announcers Guild, as his station operations manager and personal consultant.
Mr. Stephens' experience spans more than 25 years in the Gospel and radio industry Along with his expertise in special event promotion, Stephens promises to be a company asset.
"This radio (station) is my means of connecting to Christians who love gospel, Christian and inspirational music. If you can't listen to the radio at work you can now log on and get your praise on at your desk 24/7," said Stephens.
An outlet with various formats, Heaven's Gateway has old and new faith-based music from your favorites and up-and-coming artists, as well. From Yolanda Adams and Mary Mary to Toby Mack and Natalie Grant, and in between, it's all at the "Community Connect."
Check out the station at www.lovebroadcasting.net.
TBGB Note: Congratulations to Mr. Ed Stephens, a good man and a dedicated GAG member, on his new role! R-E-S-P-E-C-T!