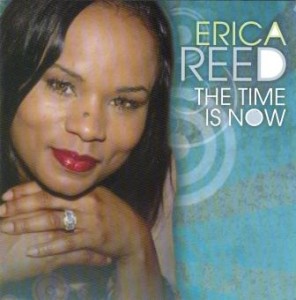 Erica Reed
The Time is Now
EDP Productions 2009
http://www.ericareed.org/
Erica Reed is a fine singer who comes from a family of church leaders. She possesses a sassy pop style that gives the collection of praise and prayer songs on her CD, The Time is Now, finger-popping attitude.
Eschewing background vocalists, Reed simply multi-tracked her own voice, weaving her harmonizing alter ego in and out of the melodies like a fugue. This technique is particularly effective on "God Is Using Me."
Reed's sound is ideally suited for the album's R&B-fueled songs "My God is Everything," the catchy "Walk By Faith," and "Anything But Fail." The delightful "Holding On to My Faith" is the album's finest track, with a repeating sample of what sounds like a slide guitar supporting Reed's playful soprano. The soulfulness of "Been So Good" runs a close second.
On "Where Would My Life Be," the music and Reed's singing come close to sounding like what would have happened had Cheryl Lynn ("Got to be Real") joined the East St. Louis Gospelettes. It's an interesting analogy, too, because Reed is actually from the St. Louis area.
The instrumentation on The Time is Now is minimal. Electronic keys, guitars, samples and beats are applied lightly, although Reed's use of repetitive samples makes the album more fascinating. I'm not usually a fan of heavier bass, but here it would have warmed up the album's ambience.
In fact, it would be a treat to hear Erica Reed, along with her multi-tracked self and infectious repeating samples, put in the capable production hands of an Asaph Ward, Sanchez Harley or PAJAM. Whoa, now there's a hit record in the making!
Three of Five Stars
gPod Picks: "Holding On to My Faith," "Been So Good," "Walk By Faith."
Reviewed by Bob Marovich for The Black Gospel Blog.