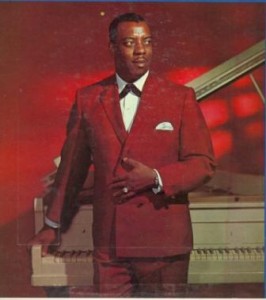 "Troubled"
James Cleveland and the Cleveland Singers
From Savoy LP MG14211
1968/69
If life is a ball game, as Wynona Carr sang, then James Cleveland was life's great utility player.
James was a creative composer, director, keyboardist, producer, preacher, m.c., and vocalist – whether solo, with a choir, or with a group. He even organized a namesake group, the Cleveland Singers, which was patterned, like so many other groups, after Roberta Martin's aggregation of top talent.
It was with one of the several iterations of Cleveland Singers personnel that James recorded "Troubled," the musical equivalent of a relaxing soak in a bubble bath. I am not certain who the baritone lead singer is; it's not James, nor is it Gene Viale and I doubt it's Roger Roberts. If anyone knows, holla back.
UPDATE: TBGB's good friend and former Cleveland Singer Gene Viale believes the baritone lead to be Clyde Brown. The song is a Doris Akers composition.
Lyrically, "Troubled" follows the theology of the spiritual: the singer concludes that Trouble will not leave his doorstep, i.e., there's no salvation on earth, but he's okay with that: there's a better doorstep awaiting him in the hereafter. Musically, "Troubled" is quiet and introspective, much like Charles Watkins' "Heartaches," which the Cleveland Singers recorded a few years earlier, with Viale (who brought "Heartaches" to the group) handling lead duties.
I suspect "Troubled" was never released as a gospel single because of its length (a little long for the 7 inch records of the day), but also because another song from the album, "Free at last," made more sense to release: after all, in 1969, Dr. King's assassination was fresh and raw in everyone's minds and hearts.
In addition, "Troubled" could almost pass for a jazz or pop ballad, which would have befuddled gospel announcers of the day. Regardless, music is music, and James Cleveland made many fine examples of it, as evidenced here. A Cleveland masterpiece, one of many.
NOTE: Watch TBGB in the coming months for reissues of Bob Marovich's earliest "Essential Gospel" essays, originally written between 1996 and 2000, and published on a website that is now defunct.