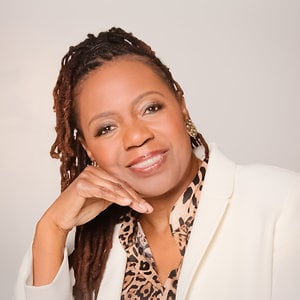 By Bob Marovich
In 1970, Evangelist Myrna Summers burst on the gospel music scene on the strength of "God Gave Me a Song," a composition she wrote and performed with the Interdenominational Youth Choir of Washington, DC and Maryland. It was so popular, Atlantic Records handed her a recording contract. The song earned a Grammy nomination.
Summers is now parlaying her more than forty years of success as a music minister to help fellow church musicians and singers understand that music ministry is "More than a Song."
"Music people, that's where my heart is," Summers told the Journal of Gospel Music. "Over the years, I have seen so many of us live lives that are disrespectful to God and don't honor God for what He has given us. We don't give it back to God like we should."
Summers was born and raised in Washington, DC, and attended Refreshing Spring Church of God in Christ. Her mother wanted her to follow in her footsteps as a school teacher, but Summers wanted to be a singer. She even attended a private music school, where she studied theory and vocal training.  Formal lessons did not last for long.  "The gentleman who was coaching me gave up on me," she said, "when he found out that I was singing gospel on the weekends. He decreed that gospel would mess up my throat and he didn't want to waste his time."
This experience didn't deter Summers from singing, however. Neither did another calling that had been slowly percolating in her life.  At twelve years old, she said, "I was sitting in my living room and my Uncle Zeke was in there, watching TV. And he turned around, and said, "Myrna, you're going to be a missionary." I said, "I know." He said, "What do you mean you know? You're just a kid!" I said, "Uncle Zeke, the Lord has shown me that I would be preaching—but I don't want to." He said, "Well, you have to."
Ignoring the call and Uncle Zeke's admonishment, Summers set about working in church music ministry. She prepared a choir comprised of youth from Maryland and DC to attend a brand new gospel music convention: the Gospel Music Workshop of America (GMWA). Founder James Cleveland personally invited the choir to participate. While at GMWA, Summers was asked to teach the members one of her song compositions. She taught "God Gave Me a Song," something she had written a few years prior for Refreshing Spring.
"God Gave Me a Song" was so well received at GMWA that her youth choir, the Interdenominational Youth Choir of Washington, DC and Maryland, decided to record it as a single. Discovering that Century Records, the record company that Edwin Hawkins used initially to record his career-transforming hit, "Oh Happy Day," was located in their area, Summers and the choir recorded the song on Century. Maybe lightning would strike twice.
It did. Atlantic Records heard and liked the Century disc, and approached Myrna to do a full album. God Gave Me a Song was released on its Cotillion subsidiary. Summers was on her way to gospel music stardom.
But missionary work and preaching never remained far from her consciousness. Around the time of "God Gave Me a Song," Summers was preparing her church singers for a Sunday morning service when the fire fell.
"I was teaching 'How Could I Doubt That There is a God,' and in teaching that song, the spirit of the Lord came in that place, and I spoke in tongues for the first time. When the Lord finished with me, I knew then that I had to be a missionary."
She told her pastor what had happened and that she was going to be a missionary. His response: "What took you so long?" She said, "I don't want to preach, I want to sing." He said, "Myrna, you can do both." He countered every excuse she had until she relented.
Summers insists, however, that while she said yes to the call, she hadn't yielded to it.  She would not yield, in fact, until the eve of the millennium.
By that time, she was hired as music minister for the Church of the Great Commission in Maryland. "While sitting there [in service]," she recounted, "Bishop David Perrin stood up to preach—it was late December of 1999—and he said, 'As we are preparing for the new millennium, I hear the spirit of the Lord saying that many of us have said yes, but we have never yielded.' When I heard that, I started crying because I knew Bishop was talking directly to me. I had always said yes, but I never yielded. That was the hardest thing to do. From that moment until now, God has been using me in a special way."
Her route to service was all but established for her, Summers said, when she began receiving calls from pastors and music ministers to share her life experiences with them and answer questions. She realized that musicians, singers, and directors, having sacrificed so much time and energy to the ministry, needed some ministering themselves, and from someone who had gained wisdom from a lifetime of experience.   She calls her ministry "More than a Song."
"I believe God called me to share with other music people—the singers, musicians, those of us who are involved in the music ministry of local churches," she said. "These are the people I am trying to reach, to share my story and help them realize that we are more than a song. We are the new millennium Levites—called to open worship not just in performance mode but in spirit and in truth."
It's the focus on performance over worship that most concerns Summers. "I am finding—I have to be honest—that many music people are not saved. They are up there for different reasons. Those of us who are in churches and in music ministries, everything now is so performance geared. I ask, 'Are you saved?' 'I think so.' 'Well, let's start from there.' When I come at the end of a rehearsal, you can almost see [the singers and musicians] cringe, because they know I am telling the truth, but they don't want to hear it, necessarily. I say do not conform, but be transformed. It's the Word that is going to save."
Summers added: "This is a tough task but I can't stop. I believe it is a specific call on my life to talk to them. When one comes to me, I'm going to sit down and take time with that person and share what God has shared with me, the importance of music, and that it goes beyond the song."
This has been her mission since 2000. "I don't go to the doors knocking," she added, "but they know I am available to come. I don't feel I should charge, but hopefully their hearts will be blessed and they will leave a gift."
Summers' ministry went online after a colleague told her to put her thoughts on the web. She turned to others for help—"I'm not techie, but my kids are, thank the Lord!"—and is now getting a positive response to her web-based messages and new online video series, "Myrna Summers' The Voice." Inspired in part by the popular television vocal competition show, "The Voice," Summers' series features brief spoken commentaries that "encourage the Christian Music and Worship communities to fully pursue God."
"I love 'The Voice'!" she said. "That technique where you don't know who is on the other side. But I get more compliments [on my video series] from ministers. I say, 'Thank you guys, but I really want to hear more from your music people!'
"But God promised me that if I continued to prepare myself, He will open that door to allow me to share a word. And He'll take it from there."
For more information, visit www.themyrnasummers.org.