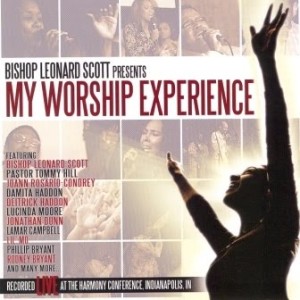 By Bob Marovich for The Black Gospel Blog.
On September 14, 2010, the world will have a chance to hear what worshippers enjoyed last August when Tyscot Records releases My Worship Experience.
It's a two-CD set that represents what can take place when top-shelf gospel singers such as Joann Rosario-Condrey, Lucinda Moore and Damita and Deitrick Haddon gather with praisers, clergy and congregants to participate in a church experience unlike any other.
The father and son team, Dr. Leonard S. and Bryant Scott, spoke to TBGB last week about the new project and about the origins of their label, Tyscot Records, billed as the longest-running African American-owned record company in the U.S.
The August 2009 worship experience was Bryant's vision. "God dropped the idea in my spirit at least five years ago," he explained. "At church you have the praise team, you have the music section, and then the minister comes out and delivers the sermon. What bothers me is that when worship is going on, the man of God is not even in the sanctuary. He's waiting for an entrance to bring forth the word. In the Bible, when David and others worshipped, everybody was involved in the totality of the worship experience.
"What God dropped in my spirit was to merge the music and the word so that they are not two separate parts of the worship experience but joined together."
Bryant put his ideas into action during Tyscot's inaugural Harmony Music + Business Conference, held in Indianapolis, Indiana, August 6-8, 2009. "This conference brought together knowledgeable professionals to impart information to those who might further their careers in the gospel industry," Leonard said.
Bryant continued. "[At the Harmony Conference] we held this night of worship where music and exhortation, or the bringing forth of the Word, were intermingled. You had music and the Word, and the whole experience was just phenomenal. Everybody was involved from top to bottom and the spirit of the Lord just fell in the place."
My Worship Experience is the first project of its kind for Tyscot Records. "In fact, the project was an afterthought," Bryant said. "We did not go into the service with the intention of doing a CD. We intended to do a service like this, and we happened to record it. Now we have an album."
Leonard added, "So what you hear on My Worship Experience is the music as well as the artists' powerful testimonies and their comments on the songs. What is edited out of most recordings is on our recording."
"It has become a mandate that God has given me," Bryant said, "to preach, if you will, this concept of worship and get others around the country to join in.
"The biggest discord in many of our churches today is between the minister of music and the pastor. It goes back Biblically to the discord between God and Satan, as God's main worship leader. We need to stop fighting inside our churches, where the music department wants to do it this way and the pastor wants to do it that way. What if it's one agenda to create an atmosphere of superb worship to our King?"
Leonard said, "I also think that worship, even in the local church setting, is changing. Television has a lot to do with that. Before television, our experience was limited to our particular church. You were in your service when everyone else was in their service. But television lets you see other people's services, how they worship. You can take some of the good things that others do and incorporate them into your service.
"Worship is more and more about congregational participation. If you go way back, nobody participated in the service but the preacher. He said everything, he did everything and you just sat there. In fact, years ago in the Catholic Church they spoke in Latin, so you didn't even know what the priest was saying! Today, everybody participates in the worship service. The person on the platform is leading us as we all sing, as we all lift hands, as we all dance, as we all participate. I believe that Biblically that's a much better paradigm than the one of sitting there and listening to Latin!"
Has television also contributed to interdenominational cross-fertilization? "Absolutely," Leonard answered. "You used to be able to tell what kind of worship service a church was going to have if it was Baptist or Pentecostal. Not anymore."
The first single from My Worship Experience is the poignant "I Need You Now." It features one group that wasn't at the Harmony Conference: the Indiana Celebration Mass Choir. "Rodney Bryant put the choir together," Leonard explained. "They are on the single but they did not actually sing at the service. We added them to the recording later because we needed more voices on the song."
What does Bryant want listeners to learn from the CD? "That it's time to stop playing church. Worship is not just to be done within four walls and it's not just for a particular time during the week. Worship should be our lifestyle. The project starts out by defining praise and worship. Then it moves into worship as a lifestyle and, ultimately, into worship through giving your life. At the end of the day, you have to give your life. Not just a one time, 'Lord, I accept you as my personal Lord and Savior,' but a daily walk. It's about changing your lifestyle so that all your steps are ordered by God."
Although the CD isn't officially available until September, some have purchased it directly from Tyscot when the company has been on the road, fulfilling engagements. "We've been getting nothing but great responses so far," Bryant said, then laughed. "I don't know how to take it sometimes. People will come up to me and say, 'Wow, this is a really great CD,' and I think, 'Okay, you didn't expect it to be?'" Noted Leonard, "We feel the project is pretty strong. Now we'll see what God does with it."
TBGB asked Leonard and Bryant about the origins of their label, Tyscot Records.
"Tyscot Records started out as a way for us to record our church, Christ Church Apostolic of Indianapolis," Leonard said. "After that, other artists asked to be on our label and it kind of evolved from there. As I look back now, I see that the Lord's hand was in it. Back then, it was just a way to get our church record out."
In addition to Christ Church Apostolic, the earliest Tyscot artists were Truth and Devotion of Anderson, Indiana, the Pentecostal Ambassadors, and Robert Turner and the Silver Hearts of Indianapolis.
But times were not easy for the label during the early years.
"Back in 1988," Bryant recalled, "I was on a path to be a dentist, just like my father, who has been a practicing dentist since 1974. I finished my undergraduate work and was accepted to dental school, so I worked for the record company during the summer.
"I remember going to my dad's office to get some money to pay the bills because the record company wasn't generating enough money to pay any bills at that time. Dad was writing the check and he looked up and said, 'You know what, this record company thing has gotten out of hand and I think I'm going to close it down. It's just too expensive.' I was only an intern but something grabbed my heart right then when he said that. I decided to pray about what he had told me. I prayed and fasted for a week. God came back and said, 'Help your father.'
"So I called the dental school to see if they would hold my place for a year and they said they wouldn't. I'd have to reapply. Obviously working for the company became very permanent for me at that point, but God has been blessing us ever since. In 1988, the company was grossing under $50,000 a year, and in a few short years it did a million. God is faithful."