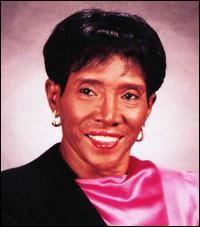 "Walk Around Heaven All Day"
The Caravans
Vee Jay 945 and VJLP 5058 (1964)
[Also available on Collectables CD
The Best of Vee-Jay Gospel, Vol. 4
]

(NOTE: This essay was originally published in 1996; it has been edited and updated for inclusion here.)

"One of these mornings, it won't be very long;
You'll look for me and I'll be gone."
This couplet appears in thousands of gospel songs, but nowhere is it articulated with more elegance and foreboding than in the Caravans' "Walk Around Heaven All Day."
Although billed as a Caravans recording, "Walk Around Heaven All Day" is really a solo outing for member Cassietta George, and it ranks as her finest work. After a delicate but somber intro of piano and organ, Cassietta enters, a cry buried deep in her voice, singing about a hereafter where "nobody will be able to put me out."
She has me at the line, "My mother will be waiting and my father, too/And we'll just walk around, walk around Heaven all day." If you substitute the names of your own deceased loved ones in that line, this song is guaranteed to break your heart.
By the time Cassietta lets loose an old-fashioned gospel shout during the song's bridge, you are caught completely in the rapture of her voice and the lyrical imagery of a place where loved ones walk streets of freedom. Take notice, everyone: this is the recording I want played at my funeral.
One of Vee Jay's most touching gospel recordings, "Walk Around Heaven All Day" is a poignant evocation of Heaven with a pointed social message. Seemed as if in 1964 America, the only way African Americans could achieve freedom was by making it to the pearly gates.