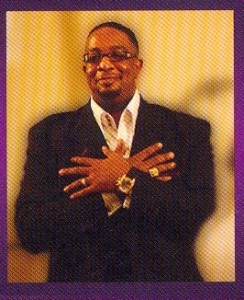 By Bob Marovich for The Black Gospel Blog.
No one can call Bishop J.C. Williams an underachiever.
He accepted the ministry at age 15 and started a church ten years later. Now in his thirties, Williams is one of ten ministers who will be honored at the Rhythm of Gospel Awards this July.
His CD, The Encounter Live, recorded with the Voices of New Life, was released April 2.
The Bishop took time out on CD release day to talk with TBGB about the CD and his musical background.
Bishop Jeronn C. Williams, Ph.D. was born in Detroit and attended the International Gospel Center under the pastorage of the late Apostle Charles O. Miles. Williams grew up surrounded by music and ministry: his mother was International Gospel Center's minister of music, responsible for six groups and four choirs, including a 200-voice chorus. His father was the church organist.
Williams sang in his mother's choir and cites three innovators as his earliest musical influences: Rance Allen, Marvin Winans and John P. Kee. "I'm dating myself," he said, "but I can remember listening to Rance Allen's 8-tracks in the living room, and trying to sound just like him!"
At age 15, Williams formally accepted the call to ministry and chose to further his education at Morehouse College in Atlanta. The summer before entering his freshman year, however, he had a critical decision to make.
"I was asked to sing with Fred Hammond's Radical for Christ," Williams recalled. "He was just putting it together, but I had to turn it down. It was a great opportunity, and it was great to be asked to be part of it. At the same time, I knew my college matriculation was going to be even more important."
In 1993, during his college years, Williams began directing the New Life Inspirational Gospel Choir, a collaborative effort between Atlanta HCBUs Morehouse, Spelman, Clark-Atlanta and Morris Brown. He held this position until 2007.
On Easter Sunday, 1999, twenty-five year-old Williams started New Life International Family Church in Decatur, Georgia, near Atlanta. Today, New Life has approximately 400 members, "and we are growing," Williams adds.
Despite the church's growth, Williams felt something was still missing. "I was feeling like there was something that we needed to do and hadn't done. It came very strong on my heart that we needed to record. The favor of the Lord was with us, especially financially, because we really didn't have the money to do a recording the way we wanted to do it. But we did it and we are extremely excited with what came out of it."
The album, The Encounter Live, was produced by Donnie "D-Major" Boynton, Williams' cousin and the church's minister of music. "We have a studio at the church and he did all the music production," Williams said.
Derrick Stevenson, married to gospel singer Monica Lisa Stevenson, handled mixing responsibilities.
"We Serve a Mighty God" was the first single to be released from the album and is currently impacting radio in Detroit, Chicago, Mississippi, and places in between. It also earned the choir three Rhythm of Gospel Award nominations: Song of the Year, Contemporary Song of the Year, and Church Choir of the Year. The awards will be presented in July at a special ceremony in Memphis.
In addition to the nominations, Williams was selected to be one of ten Pastors of Excellence honorees to be feted at a banquet during the Rhythm of Gospel weekend.
Williams said another potential single from the album is "Rejoice." It's a family project. "My dad wrote that song about thirty or forty years ago," Williams explained. "We had the privilege of re-doing it and re-presenting it. My sister, Sheronn L. Williams, is leading it."
Just prior to the CD release, the Voices of New Life sang for Wrestlemania XXVII at the Georgia Dome. Williams said the opportunity came about when the music director of WWE "was looking for a choir in Atlanta. He went on YouTube and found us. He said our sound was exactly what we wanted, so we were privileged to be part of Wrestlemania. They told us that our performance was the best that they had ever had out of a choir."
Now that the CD is out, Williams and his team will be sitting down to plan a promotional tour. He said, "There is a myriad of churches calling me and saying they want the project, and want us to visit, so we are going to put together a Midwest, East Coast and Southern tour and see where it takes us.
"I'm my own worst critic," Williams laughs, "and I absolutely love the project!"
For more information, go to http://www.voicesofnewlife.com/.